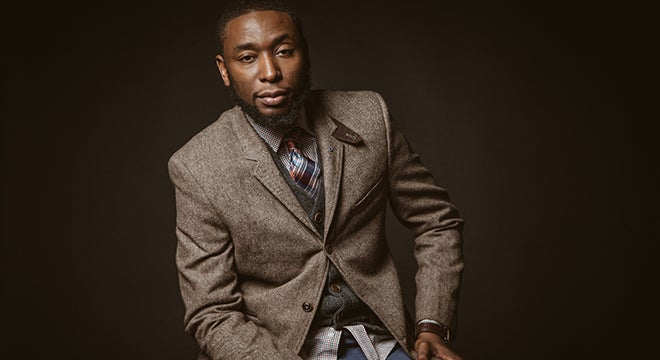 Sat, Apr 1, 2017
9th Wonder *SOLD OUT*
with Fake Cousin - Presented by UVA Arts Board
About 9th Wonder: Patrick Denard Douthit (born January 15, 1975), better known as 9th Wonder, is a Grammy Award winning Producer, Record Executive, DJ, College Lecturer, and Social Activist from Winston-Salem, North Carolina, U.S. He began his career as the main producer for the group Little Brother in Durham, North Carolina, and has also worked with Mary J. Blige, Erykah Badu, Jay-Z, Murs, Drake, Kanye West, Talib Kweli, Destiny's Child, J. Cole, Kendrick Lamar, Ludacris, Buckshot, Mac Miller, David Banner, Jean Grae, Wale, Lecrae, Jill Scott, Big Boi, Rapsody, and Anderson .Paak. As of 2010, 9th Wonder raps under the name of 9thmatic.
9th Wonder has a smooth and soulful production style that relies on samples from artists such as Al Green and Curtis Mayfield. He attributes the bass lines that he uses in production to DJ Premier, Pete Rock and J Dilla, while he claims to have learned the sampling of "Wails and moans" from other works of music and where to position them in his songs from RZA.
9th Wonder was a founding member of hip-hop trio Little Brother in 1998. The group released the critically acclaimed album The Listening, which received 4 mics in Source Magazine. In 2003, 9th Wonder landed his first major label placement with the song "Threat" on Jay-Z's Black Album. This album debuted at number 1 on the Billboard 200 chart. Next, 9th produced the songs, "Girl", "Is She The Reason" and "Game Over", for the R&B Supergroup Destiny's Child on their album Destiny Fulfilled. 9th's production of "Good Woman Down" for Mary J. Blige's album The BreakThrough, garnered him his first Grammy win in 2005. 9th Wonder was then tapped to produce Erykah Badu's "Honey" on her album, New Amerykah Part 1 and "20 Feet Tall" on New Amerykah Part 2: Return of the Ankh. This was followed by 9th's production on Ludacris' "Do The Right Thing" featuring Common and Spike Lee. 9th Wonder, E. Jones, and rapper J. Cole served as the lead producers of the soundtrack to the EA Sports video game NBA Elite 11, in which 9th Wonder and J. Cole also appear as "secret characters" with a team name of Cole & Wonder.
9th has produced 3 albums with MURS, an Emcee from MidCity, CA, all three of which have received critical acclaim. More recently, 9th Wonder produced Jill Scott's "Beautiful Love" ft. BJ The Chicago Kid on her 2015 album release Woman. In 2015, he collaborated with legendary rapper Talib Kweli on a joint album titled Indie 500 to the delight of the hip-hop underground. Rising Star Anderson .Paak sought out 9th Wonder's production for "The Season" and "Without You" (featuring Rapsody) on his breakthrough release Malibu released coincidentally on 9th Wonder's birthday, January 15, 2016. 9th Wonder collaborated with Big Boi of Outkast for the song "Put It On Her" for his release Big Grams in 2015 and assisted on Kendrick Lamar's landmark album To Pimp a Butterfly with the track "Complexion (A Zulu Love)" featuring Rapsody.
In January 2009, 9th Wonder announced plans to start the independent record labels Jamla, under his imprint It's A Wonderful World Music Group (IWWMG). In July 2010, 9th Wonder officially debuted his production team for IWWMG. The Soul Council consists of Khrysis, E. Jones, Ka$h Don't Make Beats, AMP, Eric g., Nottz, Hi-Tek and 9th Wonder himself. In 2016, 9th Wonder's Jamla Records went into a partnership and collaboration with Jay-Z and Roc Nation to release, market, promote the career of Jamla Records artist Rapsody.
9th Wonder was appointed Artist-In-Residence by the Chancellor of North Carolina Central University along with Christopher "Play" Martin from hip hop group Kid-n-Play and began instructing a hip hop history class in NCCU's Music Dept in 2007. In January 2010 it was announced that 9th Wonder would co-teach a class titled "Sampling Soul" with Dr. Mark Anthony Neal at Duke University.In an interview with HitQuarters, he explained the reason for the move into academia: "Educating the youth on where hip-hop comes from and the history of it, using the records we use, gives hip-hop a longer life. I decided to become an advocate of that."
In 2012, 9th was named a Fellow at Harvard University to work on a research project in the Hip Hop Archive. His project, titled "These Are The Breaks", researched the original records sampled by influential hip-hop albums. In September 2012, 9th Wonder visited the University of Michigan to speak on his beginnings in the music industry and hip hop's role in the classroom. 9th Wonder served as Artist In Residence at the University of Pennsylvania in the Spring of 2016. He maintains an ongoing Artist Residency at North Carolina Central University and lectures as Adjunct Professor at Duke University in his current hometown of Durham, NC. His involvement with some of the top academic institutions in the country has validated hip hop as a true art form. Several other hip hop artists have found themselves on similar paths into the education realm including Questlove of The Roots and Bun B of UGK.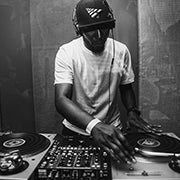 Doors

7:00PM

Show

8:00 PM

Price

Free Admission but Ticket Required
SHOWINGS
This event has already occurred.