Sat, Mar 1, 2014
An Evening with The Mavericks
VIP Ticket Includes:
• Soundcheck Party
• Show Poster
• Early Entry

About The Mavericks: "It took life for us to get to this point – Everybody was so free. From the first notes, it sounded like an explosion of sound; we went where the songs took us with a singularity of purpose. We came in to make music as grown-ups, to make music as men." – Raul Malo, lead singer of The Mavericks

The Mavericks are back. The country-steeped garage band with a Cuban American lead singer that had emerged from Miami in 1989 with their sultry debut that was equal parts innocence, intensity, and vintage influences has reunited in 2012 after an eight-year hiatus. Time has a way of melting when you're busy living life – and two decades have passed since their polyrhythmic brand of post-modern country has given the world "All You Ever Do Is Bring Me Down," "Here Comes The Rain," and "Dance The Night Away."

With their new album, time melts once again, and the band that defied definitions, blurred genres, and made everybody feel good is back. The "most interesting band in the world" has captured the infectious energy and robust sound from their live shows on their new Valory Music release In Time. Songs like "Dance In The Moonlight," the Orbison-esque "Born To Be Blue," the horn-punctuated retro noir "Back In Your Arms Again," and the Tejano-esque "All Over Again" show that the Mavericks have once again found the way to make genre-defying soul music.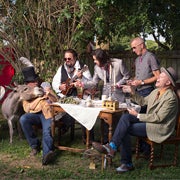 Doors

7:30 PM

Show

8:30 PM

Price

$35 Advance

$37 Day of Show

$60 VIP*
SHOWINGS
This event has already occurred.