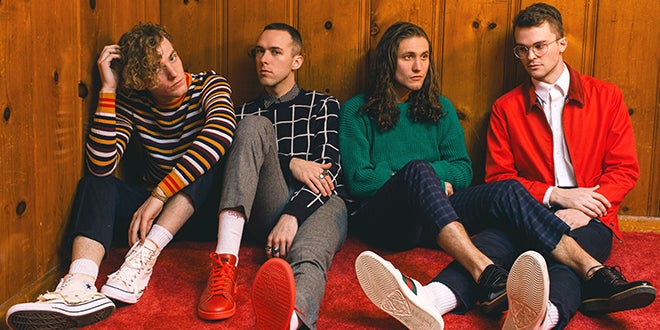 Wed, Sep 27, 2017
COIN
with Manatree
There's an inviting camaraderie surrounding the Nashville foursome COIN that epitomizes a band truly coming into its own. But it's on their hi-powered new sophomore album, How Will You Know If You Never Try, where they're most blissfully in tune with the moment.
Singled out by Amazon as their Breakthrough Artist of 2017, with Time Magazine including them in their list of 21 Musicians We Want To Hear From this year, the group reached outside the bounds and collectively inward to create a gleaming follow-up to their acclaimed 2016 self-titled Columbia Records debut .
Enlisting energetic producers Tim Pagnotta (Walk The Moon, St. Lucia) and Andrew Maury (The Kooks, Lewis Del Mar), on the 11-track album, band members Chase Lawrence (vocals, keys), Joe Memmel (guitar, vocals), Ryan Winnen (drums), and Zach Dyke (bass), also co-produce many of the tracks. Songs include last year's infectious lead-off track, "Talk Too Much," which became a Top 10 Alternative radio smash, "I Don't Wanna Dance," and the raucous "Feeling." COIN also collaborated with other songwriters for the first time (Chase and Zach went on an experimental 3-month L.A. creative bender prior to the album's production), hailing the new album as the most natural and communicative effort of their 5 year career. Other standout tracks on the album are the wistful "Hannah," the percolating "Heart Eyes," (complete with change-of-pace piano outro), "Are We Alone," which builds into a rapturous crescendo, and the album's closer, "Malibu 1992," purposefully reconfigured from a past EP and completely self-produced by the band.
With last summer's hit "Talk Too Much" raising anticipation for the new album (it reached the #6 spot overall on Alt Nation's Year End Countdown, with online tastemaker Idolator calling it "insanely catchy") Chase says the band was up to the challenge. "We're all inspired by different things, but this time we made an album very specific to what we've been through in the past year."
It was a combination of "following our intuition," says Ryan, and "not getting caught up in anything that wasn't important to us as a band." There's something reassuringly 'work-a-day' about COIN. In an era where artists' all-too-often pander to digital data to find their compass – COIN has steadily gained a seat at the table by practicing the time-proven rite of earning it. "It's easy to get caught up in comparing yourselves to others all the time and get discouraged," says Ryan. "We learned to stop doing that and embrace what we're about. We've worked hard to get here and learned as we went."
Chase describes the journey as "taking our growth song by song, city by city," citing the non-stop regimen of touring and real fan encounters as crucial bonding tools not always detectable by social media algorithms. "The effort you put in you receive in return. It's taken us three years to get to a sound that is uniquely us."
Manatree formed around 2009 when four longtime friends were entering high school. Drawing from early pop and rock influences like the Strokes and Wolf Parade, mathy bands like Maps and Atlases, and the exploratory qualities of Wilco and Broken Social Scene, Manatree wrote high energy, math-influenced pop songs with a simple lineup of two guitars, bass and drums. These efforts culminated in the band's self-titled debut album, released on Egghunt Records.

After Manatree's self-titled release, the band became gradually more interested in electronic music, everything from pop-oriented artists like Sylvan Esso and Frank Ocean, to the more experimental Actress and Oneohtrix Point Never. While keeping true to their guitars-bass-drums lineup and energetic live performances, the band is now beginning to incorporate elements of this music into their vocals, compositions and instrumentation. Manatree hopes to blend these influences for a unique and personal release later this year, which they are currently recording. The band also plans to tour consistently both before and after this release.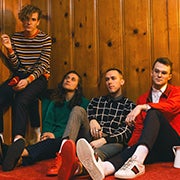 SHOWINGS
This event has already occurred.