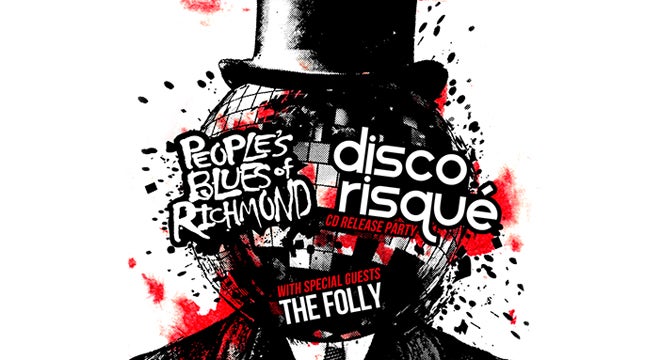 Disco Risqué & People's Blues of Richmond: Release Party Spectacular
Sat, Oct 6, 2018
Disco Risqué & People's Blues of Richmond: Release Party Spectacular
with special guests The Folly
ABOUT DISCO RISQUE:
Disco Risqué is energy! Screaming guitars, pounding drums, thumping bass, blaring horns and raw vocals come together in a controlled chaos that leaves listeners astounded and hungry for more. Formed in 2014 and performing with the current lineup since mid 2015. Disco Risqué hails from Charlottesville, VA and have spent the last year developing a signature sound attracting a fiercely loyal following of dedicated fans. Within the first year of playing live the group delivered their eponymous debut double-album (available on iTunes, Spotify, bandcamp, etc.), performed with up and coming greats such as TAUK, Pigeons Playing Ping Pong and Peoples Blues of Richmond. They've played shows and festivals throughout Virginia and the Atlantic Northeast, including Rooster Walk 8 and 9, Peace of Mind Festival 2016 and 2017, Threestival 2017 and 2018, Devil's Backbone Hoopla Festival 2017 and were chosen to be 1 of 4 Virginia bands to perform at LOCKN 2018. Combining elements of rock, funk, hip-hop, hardcore and pop Disco Risqué take their listeners to previously untrodden sonic realms. With a grueling practice schedule and a seemingly limitless desire to take their music to the next level Disco Risqué have quickly proven themselves as a fast-rising powerhouse. With the highly-anticipated release of their second studio album The DR Crew is chomping at the bit to show the world exactly where they can GET SOME!

ABOUT PEOPLE'S BLUES OF RICHMOND:
People's Blues of Richmond is wildly energetic three-piece Psych/Blues/Rock band that has come from nothing, against all odds, to become a highly sought after live act with a dedicated following across the country. They began their journey broke and devastated at the loss of a close friend. They played for hours on end at house parties and dive bars for little-to-no pay and built a devoted fan base one person and one city at a time.
Today the band has three artistically profound studio albums out on every major streaming site. They have played thousands of live shows in legendary venues including: Red Rocks in CO with ZZ Top and Gregg Allman; three sets at Electric Forest; two appearances at Lockn' Festival with Tom Petty, The Allman Brothers, Dead & Co., Gary Clark Jr., Willie Nelson, and String Cheese Incident; headlined Brooklyn Bowl and Bowery Ballroom in NYC; The National in VA with Papadosio, Flogging Molly, and as headliners; The Norva in VA; Maymont Park in VA with Grace Potter; Gasparilla Festival in FL; three appearances at Sweetwater 420 Fest in GA with Ween, Ludacris, Nahko & Medicine for the People; and literally thousands of other performances at festivals, venues, and events along the way.
They have conquered hardship after hardship that other bands have crumbled under and with every blow they come back stronger, smarter, and more humble. From poverty, addiction, and incarceration to deaths of loved ones, rehabs, and overnight drives on never-ending tours; this band cannot be stopped and every single obstacle has brought them closer and made them even more determined to continue this to the bitter end and show the world what struggle and triumph and dreams and art are all about. PBR has a new focus and dedication that is palpable in their attitude and energy. This newfound drive mixed with their memorable performance this month at Lockn' is propelling them to new heights in the music world. You don't want to miss what happens next!

ABOUT THE FOLLY:
Forming in the spring of 2015, THE FOLLY brought together Richmond, VA songwriters Jordan Lette and Anneliese Grant, as well as a collection of backing musicians; each member bringing their own stylistic technique to the group.

Being as the band has an array of musical influences, THE FOLLY's dynamic sound is structured around a base of eclecticism.

The songwriting is catchy and inviting, yet unique and abstract in an alluring fashion, blending familiar classic feeling with modern sounds. The band often invites multi-instrumentalists in recording and generates energetic on-stage performances. All of these aspects allow for the creation that is THE FOLLY experience.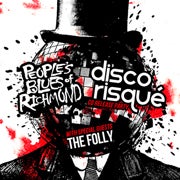 Doors

7:00 PM

Show

8:00 PM

Price

$15 General Admission

$40 4-Pack ($10 per ticket)
SHOWINGS
This event has already occurred.