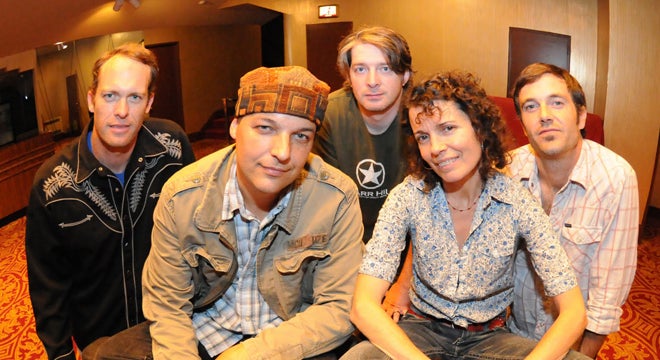 Fri, Jan 17, 2014
Donna The Buffalo
with The Whiskey Gentry
Donna the Buffalo's feel-good, groove-oriented, danceable and often socially conscious music all began over twenty years ago with roots in old time fiddle music that evolved into a soulful electric Americana mix infused with elements of cajun/ zydeco, rock, folk, reggae, and country. Donna the Buffalo is known for touring the country remaining fiercely independent as one of the industry's most diverse roots-music bands and has "earned a reputation as one of the most respected, eclectic and hardest-working acts today," praises Encore.
"Donna the Buffalo is in the enviable position of being a homegrown entity, a group that finds itself outside the coloring lines of the accepted formula, a formula that is now in the past tense…People doing what they love, and better, sharing that passion to the benefit of the public, is the strongest business formula ever written. Donna the Buffalo is living proof of that." states Beat Magazine. Edd Hurt with the Nashville Scene writes, "Folkies with a superior sense of rhythm are rare enough, but folkies with a good beat and a healthy disrespect for eclectic clichés are a national treasure….they've never sounded better…"
The dynamic songwriting tandem of vocalists Jeb Puryear and Tara Nevins have penned over 150 songs in their collaboration with DTB and have many more in the making. Although never writing a set list for live show, the Erie Times notes, "they stick to a pattern…usually alternating between Puryear's rhythmic, Dylan-influenced, guitar-centered songs and Nevins' breezy, melodic, accordion-driven gems like the folksy Tides of Time and infectious Locket and Key." As of late, Nevins and Puryear have also been known to perform as a duo on air and at live shows, which is always enjoyable to the fans to hear their favorite DtB songs in stripped down arrangements.
Donna the Buffalo is currently recording in Athens, GA with John Keane [R.E.M., Widespread Panic] on their 10th album with Puryear on guitar, Nevins on fiddle, guitar, accordion, and scrubboard, keyboardistDave McCracken, bassist Kyle Spark, and drummer Vic Stafford. Donna the Buffalo has released nine albums and are affiliated with several others, including a Puryear's 2007 solo album Hopes and Dreams and a 2003 release, Wait Til Spring, with Jim Lauderdale. The band's 2008 release Silverlined, on Sugar Hill, rose to #8 on the Americana Music Chart.
Co-DtB bandleader and American roots traditionalist, Tara Nevins, released Wood and Stone, her first solo album since Mule to Ride in 1999 on Sugar Hill Records on May 3rd, 2011. Wood and Stone showcases her ever-evolving repertoire as she journeys both back to her own "roots" and head-long into new territory. The album was produced by Larry Campbell with guests including Levon Helm, Jim Lauderdale, Allison Moorer, Teresa Williams and more. No Depression has called the album, "as invigorating as it is mesmerizing."
Over the years and through their travels, Donna the Buffalo has had the opportunity to collaborate and/or record with musicians such as Jim Lauderdale, Preston and Keith Frank, Bela Fleck, Mamadou Diabate, Claire Lynch, David Hidalgo, The Duhks and Amy Helm, just to name a few. They are well known for their on stage collaborations in the festival community as well, often bringing musician from all walks up with them to perform.
Donna the Buffalo's fervent fan base, self-named The Herd, follows the band with zeal and has created a unique and supportive community online and at DTB shows across the nation. Puryear declares, "The main thing I like to say about The Herd is that you don't have to do anything to be a member. You just have to like a song." In an interview with The Roanoke Times, Nevins conveys,, "It's a great feeling to promote such a feeling of community, like you're really part of something that's happening, like a movement or a positive force…All those people that come and follow you and you recognize them and you become friends with them — you're all moving along for the same purpose. It is powerful. It's very powerful, actually." When asked in an interview with the Weekender in PA what new people should look forward to experiencing at a show, Nevins replied "a really friendly, comfortable crowd, and a real community-oriented, positive experience."
As an extension of this community and the band's own dedication to live roots music, Donna started, and are still the driving force behind, the 20 year old Finger Lakes GrassRoots Festival of Music and Dance in Trumansburg, NY and the bi-annual Shakori Hills GrassRoots Festival in Silk Hope, NC. DtB are regulars at Merlefest (NC), Suwanee Springfest & Magnolia Fest (FL), All Good (WV), Floyd Fest (VA), and The Great Blue Heron Festival (PA) amongst others. You can also see them in 2011 at DuneGrass (MI), Head Jamz (TN), Targhee Bluegrass Fest (WV) and a variety of other venues across the nation.
With a twenty-two year tenure to celebrate, hundreds of gigs ahead of them, and an ever-evolving grassroots sound; it looks like Donna the Buffalo is riding a cloud that is truly Silverlined.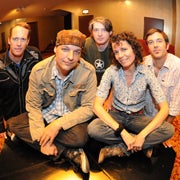 Doors

7:00 PM

Show

8:00 PM

Price

$15 Advance

$17 Day Of Show
SHOWINGS
This event has already occurred.