Sat, Jul 6, 2019
GoGo Indépendance featuring Mental Attraction Band 2.0 & DJ FlatlineLay
About Mental Attraction Band 2.0:
Based out of Southeast DC, the birthplace of Gogo, Mental Attraction 2.0 has logged over 20 years of experience under their wheels. When they say "Welcome To The Kranktrain!" they're not playing because this train runs on schedule every weekend of the year, sometimes performing as many as three shows between Friday and Sunday. Taught by their hometown local legends, the last time this 13-piece played Charlottesville there was an Aunt Sarah's Pancake House on Pantops bordered by woods! B.J., the band leader fronts a team of all-stars. His bass player is in Wale's backing band and "Congo E" has been a semi-finalist in the DMV area's legendary conga competitions. Mental Attraction has shared the stage for Wale (obviously), Jadakiss and even provided backing duties for Fat Trell when opening for him. Mental Attraction has loyal fan base with over a 100 strong piling into buses and riding seventeen hours as far South as Miami to see them live.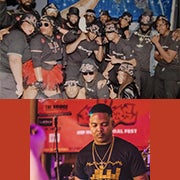 Doors

10:00 PM

Show

10:00 PM

Price

$15 Advance

$20 Day of Show
SHOWINGS
This event has already occurred.