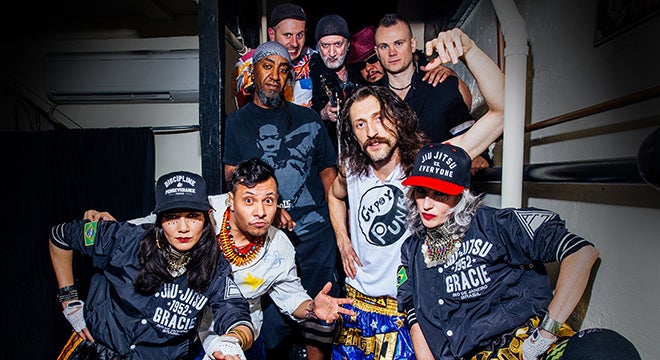 Fri, Apr 7, 2017
Gogol Bordello
with In The Whale
Recordings debut, is perhaps the most ambitious undertaking in the group's already remarkable decade-long career and it's the result of an inspired, year-length collaboration with famed producer Rick Rubin. Gogol Bordello is arguably the hardest working — and hardest rocking — group of our discordant new century, maintaining a touring schedule and an onstage energy level that would send the average combo running for the emergency room. While putting out several critically acclaimed Gypsy Punks and SUPER TARANTA! albums, the intrepid band has literally traversed even the farthest corners of the globe, building a substantial world-wide fan base via gigs and festival appearances throughout Eastern Europe, South America and the Middle East, along with stops in Australia, Western Europe and in their adopted U.S. homeland. Their encounters and adventures, as well as the band members' own immigrant histories, fuel the subversively upbeat story-songs on Trans-Continental Hustle. Front-man and lyricist Eugene Hutz spins out scenarios that are, by turns, hilarious and heartbreaking — from the outsider experience of gypsies in his native Ukraine to the struggles and celebrations of Brazil's favelas. It can be said that Gogol Bordello has been representing the voice of all minorities all at once, a voice that comes from a real, poetic and deep place. Along the way, Hutz looks for common threads while embracing each of his character's defiantly unique identities, all of which reflect some facet of the frequently flying bandleader himself.
Friend and fan Tom Morello had suggested that Rubin check out the band, whose rollicking bonfire-like live performances have become the stuff of legend, featuring a veritable rock and roll army of musicians and dancers. Band members and audiences alike are driven to frenzy by the charismatic Hutz, a skinny, exhortative figure who combines Joe Strummer's politicized fervor with Mick Jagger's elastic-limbed sex appeal. But Rubin wasn't just interested in the band's well-documented energy, he was drawn to its central unifying power, the songs. As Hutz recalls, "Rick asked me to check out the new songs, to see where I was heading. I got very excited precisely about that. Songwriting was always my religion. For Rick, it is all about the soul entity of the song. That's the way I look at music too. When people were talking about Gogol Bordello, they superficially mentioned just about anything — from our energy to the fashion and the fucking socks I wear — Whereas Rick was all about the songwriting. He said, let's put it in the front."
For the band, that became a rigorous but rewarding process, working in the studio with Rubin in between tour dates. To make things even more interesting, Hutz, who had made New York City his home and long been a fixture on its deejay and band scenes, decided to relocate to Rio de Janeiro. There was, as one might imagine, a woman involved, but he was also drawn to the overall feel of a third world nation about to meet the first world on its own terms. His friend Manu Chao, with whom Gogol Bordello has toured, showed Hutz the lay of the land; one cachaca-fueled evening during carnival is recounted on "In the Meantime in Pernambuco," set in the city known for the frevo sound, performed by string or brass combos that bear a strong resemblance to gypsy bands.
"I was in New York for 10 years," says Hutz. "But I was always enchanted by Brazilian music, always had Brazilian friends, Brazilian girlfriends, everything was kind of quite pro-Brazilian. It was calling me from a long time ago. And once I met up with Manu there, I was also able to see an unknown side of it. Everybody knows about samba, but nobody's ever heard of frevo!, which is a completely unique, maniacal form of music from Pernambuco. I started meeting musicians with him and I basically fell in love with the place. So I said, send my shit over, I'm staying! I wrote most of the record there, coming back there from long tours and reflecting and looking at all the authentic beauty that Brazil had to offer. And that doesn't mean it starts with the rhythms of the samba — no, it's all textured in. Until I became part of that landscape, the writing did not begin. It's like a deeper study of Eastern European and Latino American connection, which is always a very strong emotional connection."
Latin America was clearly a focal point, but Hutz logged in a lot of miles elsewhere before he touched down in Brazil: "I had material I wrote in New York, Siberia, Morocco, Ukraine, Hungary, Turkey. When we were in Turkey I had the chance to see how the gypsy population lives there. I knew how they lived in the Ukraine, and it's very similar. Then I was in Latin America and was able to see all the favelas and go into that world, find friends there and see their way of life. And once again see that's where all the poetry of the world is living. That's where it's coming from. Trans-Continental Hustle is this quest for solidarity among these world ghettos and their relentless energy."
Trans-Continental Hustle was recorded in Los Angeles with Hutz and longtime band-mates Oren Kaplan (guitar), Sergey Ryabtsev (violin), Yury Lemeshev (accordion), Thomas Gobena (bass) and Pedro Erazo-Segovia (percussion). The album also introduces drummer Oliver Charles. Hutz, who originally emigrated with his family from Eastern Europe to Burlington, Vermont, continues to explore the immigrant experience on songs like the tough-minded "We Comin' Rougher (Immigraniada)," which intersperses memories of his own family's journey into a broader saga. Says Hutz, "You talk to Pedro or Sergey or me and you have that song. It's about the dehumanizing traumatics of it, the insanity of the effort it takes to carve out your place in another world." He also addresses the plight of gypsy outsiders on "Break the Spell" and those caught in the middle of ethnic clashes on "When Universes Collide." Hutz doesn't shy away from love songs either, starting with the Romeo and Juliet-style drama of "Pala Tute," a rousing sing-along number that has become something of a band signature since the group performed it in 2007 with Madonna during the worldwide Live Earth telecast. (Madonna also persuaded Hutz to star in her directorial debut, Filth and Wisdom, and licensed a passel of Gogol Bordello tunes.)
"It's the first time on a GB album there are so many love songs," admits Hutz, "so it's kind of a transcontinental love hustle too. That's the parallel plot. The way I've been living, all the transcontinental romancing, all the insane long-distance of it all, added up into this crazy reservoir of feeling. And finally, I felt some kind of internal freedom to speak confidently about this mileage of joys and devastatios. like "Rebellious love" and "My Companjera."
The irresistible, anthemic "Pala Tute," explains Hutz, is "derivative of a very old gypsy song that I heard from my relatives. It sounds like a song you would hear at any pomping gypsy party, but it's not. I wrote that song and completed that song and made it what it is. Every gypsy traditionally has ambition to write a song that's going to eventually be an anonymous song: No one is going to know the fucking name of who wrote the song, it's just so good that everybody sings it. So that's my shot at it, making an addition to the standards. And guess what – 'Pala Tute' already is performed by gypsies in Turkey, Brazil and Serbia!"
Anonymity clearly won't be an issue for Gogol Bordello any time soon. With Trans-Continental Hustle, the party-starting group will be encouraging and inciting even more of the world to passionately sing along.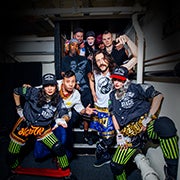 Doors

7:30 PM

Show

8:30 PM

Price

$32 Advance

$35 Day of Show
SHOWINGS
This event has already occurred.