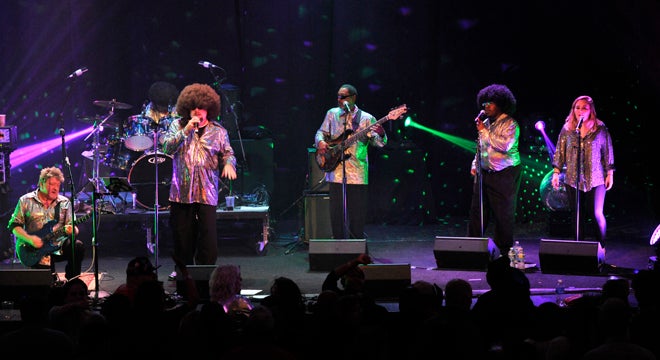 Sat, Nov 25, 2017
Groove Train
with Ole Skool presented by Generations 102.3
Groove Train from Evan McLeese on Vimeo.
Central Virginia's Premier Disco Experience Interactive, high energy and always fun!
Groove Train loves to perform & it shows! It's funky, it's wah wahs, it's platform shoes but most of all it's a PARTY.
You can't resist the dance floor when Groove Train takes the stage.
They will captivate you with an exciting blend of music from the days of disco, groovy costumes, outrageous hairstyles, and showmanship.
Reverend Booty Love - Lead Vocal
The Reverend's First job was at Club 54, and while the reverend was slinging drinks to the celebrity clientele, he learned the Gospel of the Disco.
Foxy Delicious -Vocal
Moving on from her career as a Headliner and show girl in some of Vegas' finest establishments, Ms. D is making her life meaningful by singing with and for the wonderful boys in The Groove Train. She also runs a home for wayward girls in Altavista, VA. Y'all stop by and see us now, ya hear!?
Titus T - Guitar
Titus T Guitar gunslinger from Encino, California. Now a man about town, walking softly and blasting the funk to the nation. Dropping the P Funk bomb for the world to hear.
Vinnie Barbarino - Bass Player
Holds down the bottom end of the groove on the bass
Victor Ray Valentine - Back up Vocal
Got into the Adult entertainment business in the early to mid 70`s. He was in High demand until he found a new love, Music
Frankie Fly - Drummer
This drummer was born in Detroit. Rumor has it the late James Brown is his estranged father. Started touring with the Brown band early in life and found his love for the funk. Keep your lady friends at a distance cause he has a way of taking them home after the show.
What they are saying about The GROOVE TRAIN:

"THIS IS THE BEST BAND THAT THIS RIVER TOWN HAS EVER SEEN!" - Lou-Ann

"Alderson has never rocked like those guys rocked it." - Alan

"Guys did a great job – it was what I expected and it was what you promised... tell them Kudos and thanks to you." - Greg Nivens President Trigger Agency

"We have GOT to get this band back." - Donna ( 4th of July Committee member )

"WOW! They went over big!" ( Tom & Karen, Entertainment Committee )

"NEVER has there ever been the dancing like there was this year... my God.. people were just a dancin' everywhere!" - Debbie

"I can't get over just how nice they all are , they were as good tonight as they were in Danville , You have to take me to Staunton next weekend." - Karen

"This is better than anything they have at the fair." - Debbie

Well, as you already knew, The Groove Train was and is a big hit in little Alderson West Virginia.
"As always we were amazed by the band's excellent performance. I would like to thank you and the band on behalf of the entire brotherhood. The event would not be the same without Groove Train. – Delta Sima Phi UVa"
"This is the funest show I ever went to." - Allison ( age 11ish )

" Oh Mommie! That was really fun." - Sandy ( age 11ish also )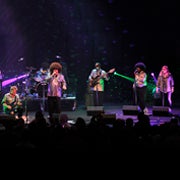 Doors

7:00 PM

Show

8:00 PM

Price

$12 Advance

$15 Day of Show
SHOWINGS
This event has already occurred.