Fri, Jan 31, 2014
Lucero
with Jonny Fritz to benefit The Haven and VDAF
Join us for a special fundraising event featuring Lucero with Jonny Fritz on Friday, January 31st to benefit The Haven and Virginia Dental Association Foundation! A VIP ticketing option is available which includes a pre-show reception with Lucero 1 hour prior to doors with complimentary food and beverages as well as a silent auction. A raffle will also be open to all ticket purchasers during the show.

-------

About Lucero: Women & Work is a love letter from Lucero to its hometown, Memphis, Tennessee. "Having a band in Memphis puts you in a tradition," says Lucero frontman Ben Nichols. "We started at punk rock shows, not necessarily playing punk rock, but coming from the outside, from a bohemian place."

The bohemian tradition is just as strong in Memphis as the city's series of international hits. The popularity of Sun, Stax, Elvis, and Al Green doesn't diminish the influence of the blues, Jim Dickinson, and Alex Chilton. The bridge between the shadows and the spotlight has become the heart of Lucero: Unafraid to mix pop with their anti-pop, they always charge into new territory.

As punks, Lucero were masters of restraint, with country music beer stains dribbled down the front of their shirts. As whiskey-soaked bohemians, they didn't shy from sweeping Americana tableaus. And then they added an accordion. "When we started, we were building on a foundation we weren't aware of," says guitarist Brian Venable. "Listening back to our early stuff, we hear ourselves reference the old Sun Records. We didn't hear it or feel it then, but we hear it and feel it now."

Women & Work, their 8th album, is such an exciting presentation of the band's eclectic explorations that it makes their 14-year meandering path appear to be a straight line to this very record. "We're more comfortable in our own skin as a band, more comfortable acknowledging regional influences," says bassist John Stubblefield. "We wound up making a Memphis country soul record."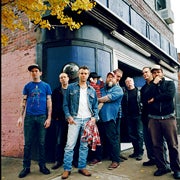 Doors

7:30 PM

Show

8:30 PM

Price

$20 Advance

$21 Day of Show

$50 VIP
SHOWINGS
This event has already occurred.