Sat, Sep 15, 2018
Neko Case *POSTPONED*
with Thao (of the Get Down Stay Down)
Due to incoming Hurricane Florence, we have been forced to postpone our performance at Jefferson Theater on September 15. While this is regretful, the safety of all involved is our highest priority. Stay tuned for rescheduling info. For immediate assistance, please contact [email protected].
---
About Neko Case:
Five years have passed since Case's last solo project, The Worse Things Get, the Harder I Fight, the Harder I Fight, the More I Love You. In the interim, she sang on Whiteout Conditions, the 2017 release from longtime bandmates the New Pornographers. The year before that, she released a vinyl box set of her solo work and joined k.d. Lang and Laura Veirs on the case/lang/veirs project.
Recording that record was a revelation, from Veirs' innovative guitar tunings to Lang's skills in studio. "I learned so much experiencing the work ethic of those two," Case says. She considers Lang "probably the most natural producer I've ever seen. Watching her work was awe-inspiring."
After their national tour together, Case found similar transcendence in October 2016 sitting on a panel at the first-of-its-kind "Woman Producer" summit in Brooklyn, NY. Between discussions and performances from a diverse group of women who produce music from around the world, she wondered how it had taken such a long time to get to that moment, and why so many female pioneers had been forgotten.
She felt lucky to have worked with the people she had encountered across her career-Darryl Neudorf, Tucker Martine, Craig Schumacher, and Chris Schultz among them-who encouraged her to expand her own skills in studio. But she had also gotten fed up with a world in which women's accomplishments seemed to vanish from public memory. "The George Martins and Quincy Joneses of the recording pantheon deserve every drop of praise and every project they have received," Case says. "But we can't keep telling the same stories over and over. We need more stories, more inspiration, more flavors."
She set to work on her next record looking for not just new stories but also new sounds. This time, she wanted to put herself in a setting far away from everything she knew. She recalled Björn Yttling's skill with Lykke Li, Camera Obscura, and his own band, Peter Bjorn and John. "I've worked with the same people so long, I never had to step outside my comfort zone," Case says. "In this instance, I chose to."
The two met over breakfast in Washington, DC, and decided to team up. By the time she went to Sweden in the fall of 2017, Case had already written songs with longtime collaborator Paul Rigby, laid down vocal and guitar tracks at WaveLab Studio in Tucson, and built Carnacial Singing, her recording space in Vermont.
But in the middle of her stint in Stockholm, with the finish line in sight, she received a surreal 3am call telling her that her house was burning and would likely be completely destroyed. She felt panicked and helpless.
The fire had started in the barn, where she kept an assortment of belongings, from artwork to old pianos. A friend had managed to get the dogs to safety. After the flames jumped to the house, her home was engulfed, too.
A few hours later, she went into a studio in Stockholm and laid down the vocals for "Bad Luck," singing the lines she had written long before she realized they would land on her.
Case is now stoic about the fire. "If somebody burned your house down on purpose, you'd feel so violated. But when nature burns your house down, you can't take it personally." The month before the blaze, Hurricane Harvey had slammed into Texas and flooded Houston. Her home burned just as Puerto Rico was plunged into a nightmare by Hurricane Maria and wildfires incinerated California. "In the big picture, my house burning was so unimportant," she says. "So many people lost so much more: lives and lives and lives."
She was hell-bent on not losing sight of the goal, reminding herself there was still beauty in the world and in the process of making music. She had been reading a lot of ancient history, including Adrienne Mayor's The Amazons, and thinking about how for millennia, women have been more central to events than the average history class admits. "We were always there, we were just erased. And I knew it. As a little girl I knew it. As a young person I knew it," Case says. "Now I know it anew with a ferocious, righteous, razor-sharp tribe of witnesses, and it makes me feel like a super-powerful human being. It makes me feel joy. There's an inheritance there that's really important, and I want to share it."
She decided to climb inside her role as producer and wield it more directly. It just meant owning what she was already doing.
***
The record that came out of this reckoning with lost stories delivers both familiar Neko Case and something different. Death, extinction, exploitation, tides, animals, and adoration all blend recognizably. Case's trademark narrative gaps, just large enough for listeners to enter each song, likewise remain. As with Fox Confessor Brings the Flood and Middle Cyclone, Hell-On spins away from conventions of story, slipping into real life, with its fierce mess and blind catastrophes.
"I'm writing fairy tales, and I hear my life story in them, but they're not about me," Case says. "I still can't figure out how to describe it. But I think that's why we make music or write things. You've got to invent a new language."
There are differences, too. The opening kalimba notes of the first track, "Hell On," lead into a waltz of deep forces, irresistible as gravity, that refuse to be leashed or controlled ("You'll not be my master / you're barely my guest"). This tornado might not love you.
Case planned this record with a commitment to big choruses and a goal of making them even bigger. The results appear in the anthemic "Last Lion of Albion," a requiem for every landscape and iconic creature ("last tiger of Tasmania / the last she-wolf to suckle Rome") erased through massacre and marketing. Rounding out the opening trilogy of false possession is "Halls of Sarah," a song for unwilling muses tormented by poets who love women "as lions love Christians."
"Bad Luck," recorded from the ground up in Stockholm, opens at a gallop and never breaks stride. A song always poses the challenge of when to move away from the groove and how to get back to it. But Yttling pointed out to Case that sometimes the whole song should be the hook-that there's no shame in exploiting the catchiest part. That became the strategy for bringing "Bad Luck" to life. Longtime collaborators Kelly Hogan and Nora O'Connor came up with backing vocals that build a giddy, knowing call and response into the song.
For "The Curse of the I-5 Corridor," former Screaming Trees frontman Mark Lanegan duets with Case on a ballad of memory and departure. Melancholy grooves "Gumball Blue" and "My Uncle's Navy" mark Case's first songwriting efforts with New Pornographers cofounder Carl Newman. And after performing it live for years, Case has finally done a studio recording with Eric Bachmann of his song "Sleep All Summer," which moved her to pull over to the side of the road and cry the first time she heard it on the radio.
The labyrinthine "Dirty Diamond" opens onto room after room of shifting vocals that soar above a march-like rhythm. "Oracle of the Maritimes," perhaps the most fairy tale song on the record, floats over a tuning invented by co-writer Laura Veirs, carrying a love that longs to prove itself ("come on sweet girl let's find you an ocean / that goes with your eyes").
Clouds of mosquitoes rising out of hot tires, a chest of drawers that rides out into the waves, a box filled with unnamed newborn creatures: these songs are bursting with images that can only be understood through peripheral vision, shards of imaginary lives wired into a mosaic.
Later comes "Winnie," a pirate love song for a woman with a mouth "as sharp as the rib of a star." The song came from the afterglow of reading Amazons. "There aren't enough songs that are obviously about a woman loving another woman, just loving her, Sapphic or Platonic," Case says. "I thought there should be one, because I know I sit around loving them all day."
The record ends with "Pitch or Honey," winding its way through intimate verses sung over a drum machine before blooming into layered vocals, a bigger beat, and a wall of sound. "Am I making pitch or honey?" fades into repetition of "I love you better when you're wild."
The record was born at the hands of some three dozen performers in all, from k.d. Lang, Laura Veirs, Beth Ditto, and Robert Forster on backing vocals, to Joey Burns of Calexico and Doug Gillard of Guided by Voices on guitars, and Barbara Gruska and Matt Chamberlain on drums. The sidelong perspective is part of the known Neko galaxy, but the production is more expansive and edgier, moving into new universes. These are songs that can swallow you.
***
When Case returned to the US and walked through the ruins of her home, the fire that had blazed after these songs were written became part of the record. For the cover, she made a warrior's helmet out of cigarettes. Interior and exterior shots of her incinerated house appear on the gatefold and booklet. And a tiny pop-open charred Brothers-Grimm cottage serves as the set for the video of "Bad Luck."
It was as if nature invented a landscape for Hell-On after the fact: a melted ladder, seared insulation dangling in ribbons, the internal organs of pianos. She thought it should all be included in solidarity with those who had lost so much in the past year.
All the living creatures present at the time of the fire were found alive, and so Case was able see beauty in the bleak scene. "It felt like this out-of-time Jacques Cousteau undersea expedition through a sunken World War II ship. Of course there's some shit I miss," she says, citing family photographs and a favorite sweater. "But none of it matters."
And as for those fairy tales she's writing and the history she's remembering: "We need them now more than ever. We need stories from all sectors. Stories without endings. Stories with multiple endings. Stories that don't end happily, cautionary tales, everything. We don't need Disneyfied stories anymore."
A force of nature, an act of a mercurial, forgotten god, Hell-On is a record sealed by fire, filled with love and rage and dangers that might lay waste to everything at any moment. So if you wake up dazed in a smoking landscape, walking through the detritus of your own lost civilization with the smell of ash in your hair, your favorite sweater gone and a new song in your head, don't say you weren't warned.
About Thao & The Get Down Stay Down:
Thao & The Get Down Stay Down-the San Francisco-based band fronted by singer and songwriter Thao Nguyen-releases their fourth album, A Man Alive, on March 4, 2016. Following the critical success of We The Common (2013), which was largely inspired by Thao's volunteer work with the California Coalition for Women's Prisoners, A Man Alive is an evolution in both subject matter and sound. Thao says: "I wanted A Man Alive to be beat- and bass-driven-rather than guitar-based-extending and elaborating upon the hip-hop influences of the previous record. A Man Alive is more instrumental, more riff- and loop-centric, and has more manipulated sounds." The Get Down Stay Down are at their best on this record, and Thao herself experimented with programming drumbeats for several tracks, although live drums are also played on every song.
Mostly recorded at Tiny Telephone Studios in San Francisco, A Man Alive was produced by Merrill Garbus of Tune-Yards. Collaborating with Garbus, who is a close personal friend, allowed Thao to achieve the sound she had been striving for on previous releases. "Looking back," she says, "I was less sure of what I wanted. With this record I had clearer vision and aspirations. I wanted emotion. I wanted power. I wanted beats. Merrill's priority was that I take songs and ideas and run with them; she pushed us all over the place. She carved out time and space for us to experiment at will and fostered a very supportive, creative environment. Everyone was compelled to go beyond what they were comfortable doing. Musician-wise we kept it tight knit because the songs were so personal and vulnerable, and it was such an intense process, I only wanted those who know me well."
A Man Alive finds Thao exploring darker and more personal territory than in her earlier songwriting. She grew up in Northern Virginia, on the outskirts of Washington, DC. When Thao was young, her father left the family. She helped out in her mother's laundromat as a teenager, sitting at the counter with a guitar, making change for customers, working on her first songs, and playing at open mics in the evenings. Her father drifted in and out of their lives.
"The record is essentially about my relationship with my dad, its trajectory. It's a document of my life in conjunction with his, even though we've always been leading our lives away from each other. Some are optimistic and forgiving, some are the opposite. There are songs from his perspective: I imagined what it would be like to have kids and choose to exist without them, or feel like you have to save them from yourself. I realized there was this relationship that I never really talk about, realized it's defined so much of me. So it was a point of reckoning. The record wrote itself. Painstakingly, of course."
The emotional center of A Man Alive is the gorgeous, plaintive "Millionaire," a song about a wayward father. While the song could have ended up as a folk ballad, its instrumentation and atmosphere is of a piece with the rest of the album, pushed along by heavily reverbed synthesizer, a simple guitar riff, and subdued drums and bass. "That's a sad fucking song," Thao said. "I remember walking out of the vocal booth, and I saw Merrill tearing up. It's uncompromisingly sad, which I don't traffic well in. It took a lot."
Much of A Man Alive is vibrant and danceable-including standout tracks such as "Astonished Man," "Slash/Burn," "Nobody Dies," and "Meticulous Bird"-and the juxtaposition of that exuberance with the dark themes explored in the lyrics is one of the album's great achievements. The songs are often punctuated by handclaps, sing-along choruses, and ass-shaking beats. While these songs come from a deeply personal origin, they have such an accessible quality that it is easy to imagine an engaged and participatory live audience. "I suspect that's always been my motive," Thao says, "but this is the most actualized that it's ever been. I wanted to make a record that was very introspective and personal, but it would also seek to communicate. And we would have fun performing it-not just fun, but I wanted a kind of crazy, rabid, animal energy. That's my favorite thing about performing-you can tap into this frenzy. We want people to dance and feel. And I want to do that every night, too."
A Man Alive is undoubtedly a new career highlight for Thao & The Get Down Stay Down. The album presents a fiercely original group sound that is rife with experimentation and playfulness. It demonstrates Thao's development as a songwriter. And it achieves that most elusive quality in music-to create an album of songs that are dark yet buoyant, tragic yet redemptive, personal yet inclusive.
-Dan Stone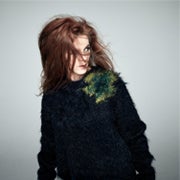 Doors

7:00 PM

Show

8:00 PM

Price

$40 General Admission

$1 from each tickets goes to PLUS1
SHOWINGS
This event has already occurred.