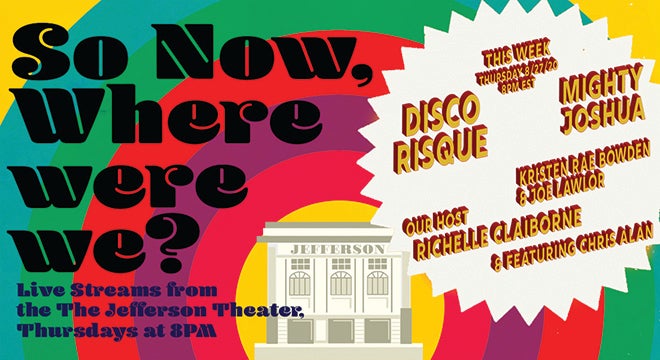 Thu, Aug 27, 2020
"So Now, Where Were We?"
A month-long, live stream music series
Facebook | YouTube Event
Thursday, August 27th
8pmET
Watch Here on Facebook
Watch Here on YouTube
Featuring
Disco Risque
Mighty Joshua
Joe Lawlor and Kristen Bowden
with Host Richelle Claiborne
and Chris Alan
"So Now, Where Were We? "
A Month-long weekly streamed series celebrating the character of our town through the lens of our rich local music community. C'ville is strong and resilient. It has been tested but we're still standing. While the challenges we still face would seem unfathomable, we have been tested & will persevere.
The Jefferson Theater has been a place to share our best moments together. Let's do it again (from a distance) as we introduce our weekly program "So Now, Where Were We?" Showcasing our rich local music community & local voices sharing stories of hope, determination & joy.
Tune in for a program we hope will inspire and remind us why we love this town.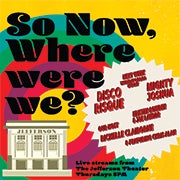 Show

8:00 PM

Price

WATCH HERE
SHOWINGS
This event has already occurred.