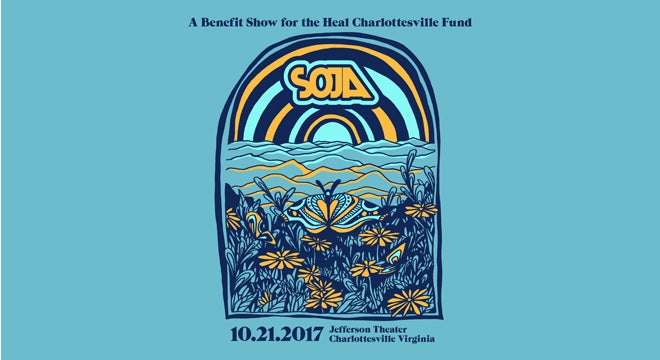 SOJA - A Benefit for Heal Charlottesville
Sat, Oct 21, 2017
SOJA - A Benefit for Heal Charlottesville
with Footwerk and Adar
In light of recent events, 2x GRAMMY-nominated SOJA invites the Charlottesville community together for a night of unity through music to benefit the CACF Heal Charlottesville Fund. The benefit will take place Saturday, October 21 at the Jefferson Theater.
As part of the concert, the group is providing their home-state fans with a live sneak preview of their latest full-length album, Poetry In Motion, which will officially be released a week after the concert on October 27th (preorder now here). The album was recorded at Dave Matthews Band's studio, Haunted Hollow in Virginia. SOJA is thrilled to be performing most of their new material live for the first time, as well as some of their classic hits, in front of a Charlottesville crowd to support a benefit and town that the band has grown to love and call a second home over the years.
Nearly two decades ago, SOJA began as high school friends in Virginia in a parent's basement teaching each other to be musicians and play roots reggae music. Today the 8 piece band, with over 7 million online followers and over 300 million Youtube views, headlines concerts all over the world for their massive dedicated fan base. Even with the passing of time and yearly advances in the band's success, SOJA always wants to remember their time together in that basement where they initially connected, inspired by each other's contributions and ideas. The feeling of true magic, collaboration and brotherhood that started back then is still evident today in their music and on full display each night at their live concerts. For their latest studio album it was essential to SOJA to consciously go back to Virginia and recapture that same sincere, cooperative magic sparked 20 years ago in the basement.
More on CAFA and Heal Charlottesville Fund:
The Charlottesville Area Community Foundation has established the Heal Charlottesville Fund to receive donations that will support both immediate needs and longer-term reconciliation efforts. It is very important that time is taken to acknowledge what has happened in our community and begin the long-term healing process. Depending on the level of resources available, the Heal Charlottesville Fund will support access to trauma and mental health services for residents, provide support to victims injured in the car attack who need medical assistance, connect with local mental health providers to support residents seeking trauma counseling, and provide crisis intervention and stabilization in neighborhoods that are under threat of ongoing attacks. For more information about the CACF and Heal Charlottesville Fund, visit cacfonline.org.
A Washington, D.C.-based Pop outfit is like a 'blind date' for newbies or a 'booty call' for an experienced audience member. Swiple Left!
Powerhouse vocalist and songwriter, Adar, is based out of Charlottesville, Virginia. She formed her band, "Adar", in the summer of 2016, and has since gathered an enthusiastic following with her compelling original songs and her charismatic performances. "Adar" draws from a deep well of original compositions, and introduces new takes on covers that transcend genres from Soul, Funk, Jazz, Rock, and more. She released her first EP, The Rapids, in March, 2017. It is available on iTunes, Google Music, and Spotify.

Reviewing The Rapids, Nick Rubin of the C-Ville Weekly, wrote, "On The Rapids, classic soul sonics give way to balladry as well as touches of reggae and Cubanismo. Her band delivers tasty trumpet and organ solos and whining steel guitar; Adar's lyrics are sensorily rich with flavors and textures, and...production sets everything in the right space."
The band is comprised of five talented musicians: Adar Seligman-McComas (Vocals and Compositions), Nick Berkin (Keys), Andrew Hollifield (Bass), Brandon Toliver (Drums), and Aaron Spring (Saxophone).
Doors

7:30 PM

Show

8:30 PM

Price

A Benefit for The CACF Heal Charlottesville Fund
SHOWINGS
This event has already occurred.