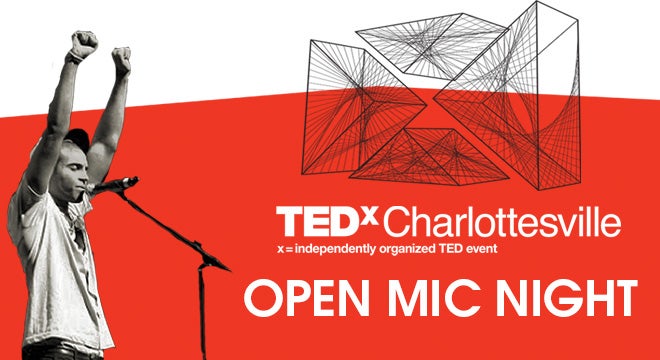 TEDxCharlottesville Open Mic Night
Mon, Oct 2, 2017
TEDxCharlottesville Open Mic Night
Do you have an idea worth spreading?
Would you like to speak at this year's TEDxCharlottesville event? Share your Technology, Entertainment, or Design inspired story to the community at our Open Mic Night. At this free community event, participants will be chosen to give their best four-minute TEDxCharlottesville talk and a chance to win a spot on stage at the main event in November.

Call for submissions is happening now! To apply to speak at Open Mic Night: Please email us your 2 minute video submission via YouTube link by Tuesday, September 26 to [email protected]. Written submissions (500 word limit, please) are also accepted. Open Mic Night Speakers will be chosen by Thursday, September 28th.
---
The main event, the 5th annual TEDxCharlottesville will be held on Friday November 3, 2017, from 9:00 a.m. to 6:00 p.m. at the Paramount Theater. Tickets and more information about the event can be found at www.tedxcharlottesville.com and at www.theparamount.net.
SHOWINGS
This event has already occurred.