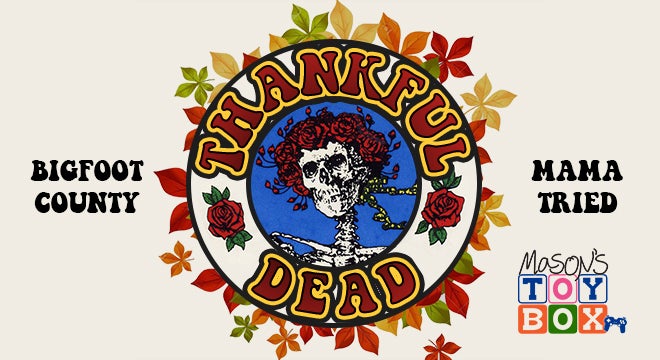 "Thankful Dead" featuring Bigfoot County & Mama Tried
Wed, Nov 21, 2018
"Thankful Dead" featuring Bigfoot County & Mama Tried
Mason's Toy Box will be collecting gift cards, tax-deductible cash donations, and new (unwrapped) toys! Help deliver over 5,000 smiles to pediatric patients, from Charlottesville to Augusta, to Roanoke, to Richmond, and their families -- bring your donation to the show!
---
About Bigfoot County: Bigfoot County is a group of 6 musicians paying tribute to the Grateful Dead one show at a time. Bigfoot County was formed in 2010 when a group of friends, who share a love for the music of The Grateful Dead got together in former drummer Sam Navarre's basement to jam. Since then they have become a critically acclaimed live act playing to packed houses all over the region: "Bigfoot County has developed a following that often leaves standing (or dancing) room only. With their authenticity and true admiration for the Dead, the band has found a niche in the growing musical community."--Magazine33.
Over the past five years the band has evolved and taken on different incarnations, always staying true to the spirit of the Grateful Dead's music, as well as adding a different spin on the improvisation at times. Our goal is to scratch the itch that so many Deadheads feel on a regular basis.
With a large repertoire of Grateful Dead songs to choose from and exploratory improvisational musicianship, Bigfoot County's live show is not to be missed!!
About Mama Tried: Local legend Charlie Pastorfield (of The Gladstones, The Skip Castro Band) fronts a local band. Featuring members of Alligator, Mama Tried focuses on 60s and 70s Dead! Charlie Pastorfield – Guitar, vocals Susan Munson – Acoustic guitar, vocals Stuart Holme – Bass Kent Raine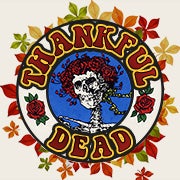 Doors

7:00 PM

Show

8:00 PM

Price

$12 Advance

$15 Day of Show

$40 4-Pack ($10 per ticket)
SHOWINGS
This event has already occurred.