Fri, May 3, 2019
The Larry Keel Experience & Jeff Austin Band
About The Larry Keel Experience:
Larry Keel is described by music critics and reviewers as the most powerful, innovative and all-out exhilarating acoustic flatpicking guitarist performing today. Keel has absorbed the best lessons from his Bluegrass family upbringing, both sides deeply steeped in the rich mountain music culture and heritage of Southwest Virginia. From there, he has always integrated that solid musical grounding and natural-born talent with his own incomparable approach to playing amplified, acoustic guitar and composing original music. He's also got a knack for choosing interesting and appealing material from all realms of music with guts, whether it's a tune written by a fellow song-writer/musician friend, or a surprise cover from any number of musical acts all over the map. The combination is pretty irresistible, and has earned Keel the highest respect and billing among the top acoustic and jam rock musicians alive, and some now gone: Tony Rice, Chris Thile, Steve Martin, Tim O'Brien, Vassar Clements, Sam Bush, Del McCoury, John Hartford, Bill Monroe, Peter Rowan, and Danny Barnes to name a few.
And his fierce, high-spirited energy also appeals to young rockers, jammers and alt-country pickers and fans who are equally drawn to Keel's blazing guitar power, the deep rumbling voice, his earthy and expansive song-writing, and his down-home-gritty-good-time charm. Keel convenes and collaborates with JamBand and Rock giants Greensky Bluegrass, Infamous Stringdusters, Yonder Mountain String Band, Keller Williams, Jorma Kaukonen, David Nelson, Little Feat, Railroad Earth, String Cheese Incident, Fruition and Leftover Salmon, amongst others. Keel has a variety of musical formats he presents throughout the year; look out for his core band The Larry Keel Experience (featuring award-winning and highly accomplished Jared Pool on mandolin and penetrating vocals, and wife Jenny Keel with her rock solid bass lines as well as tenor vocal harmonies), Larry Does Jerry (Keel performing the music for Jerry Garcia and the Grateful Dead), Larry and the Smokin' J's (featuring Jon Stickley, Jay Starling and Jared Pool), Keller Williams and the Keels, and steady swirl of pairings with Keel and Drew Emmitt, Andy Thorn, Danny Barnes, members of the Del McCoury Band, Steep Canyon Rangers, just to name a few. Of note for early 2017 is Keel's top billing at New York's Carnegie Hall, where he will headline along with Al Di Meola, Stefane Wrembel and Stochelo Rosenberg at the Django A Go-Go concert, celebrating Django Reinhardt's influence on the world of guitar music. Throughout his career, Keel has released 15 albums and is featured on 10 others. The most recent release, March 2016, is EXPERIENCED, an entirely original work that showcases Larry's and banjo virtuoso Will Lee's exceptional songwriting, singing and jaw-dropping instrumental performances, accompanied by Keel's equally talented wife Jenny Keel on upright bass and harmony vocals. This Americana Radio charting album exemplifies the raw sophistication of Keel's progressive acoustic style, and features musician-friends who appear as guests on various tracks of Experienced; the artists include Sam Bush, Del McCoury, Peter Rowan, Keller Williams, Jason Carter (Del McCoury Band), Mike Guggino (Steep Canyon Rangers) and Anders Beck (Greensky Bluegrass). Quotes about Keel and his music from these artists themselves capture the essence of what this album and Keel's artistry represents.
About Jeff Austin Band:
"When I'm writing a song, it's not about the hot licks, it's about the voice and how it can be showcased from song to song," says musician Jeff Austin. His focus is on transporting his audience by way of his vocal: "It's the direct communication with the crowd — not just asking them how they're feeling, but bringing something out of them." For Austin, the act of speaking to people through his art really means using his voice.
The career of the Colorado-based artist has already seen him break through jam and bluegrass scenes, play stages from The Fillmore Auditorium to Red Rocks Amphitheater, and outdoor events like Telluride Bluegrass Festival and Bonnaroo Music and Arts Festival, among many others. But with the launch of his solo career in 2014, Austin is now building on the foundations of previous ventures while honing his own sound and charting new courses.
"I've learned a lot from the people I've played with," says Austin who has shared stages with such luminaries as Del McCoury, Jerry Douglas, Sam Bush, Earle Scruggs, Jon Fishman, and Phil Lesh. And it's artists such as these who have helped crystalize Austin's idea of what he wants to do as he moves forward with his eponymous project. "From both the rock side and the bluegrass side," he explains, "I've learned a lot about song structure, solo ideas, playing with guts, and being who you are."
Although he considers the Jeff Austin Band his primary focus, the mandolinist and singer is also known for embracing collaborations. In 2004, he released a full-length album with Chris Castino (The Big Wu) that featured guest appearances by Noam Pikelny, Darol Anger, and Sally Van Meter. Just two short years later in 2006, Austin teamed with Keller Williams and Keith Moseley to record a live album of bluegrass takes on Grateful Dead covers. The project, released under the name Grateful Grass, benefited the Rex Foundation. And most recently, Austin revived 30db - his project with Brendan Bayliss of Umphrey's McGee.
In truth, Austin only began playing the mandolin a few years before co-founding progressive bluegrass outfit Yonder Mountain String Band, a group with whom he parted ways in 2014. And, picking prowess aside, Austin has always considered his voice to be his first instrument. He was drawn to singing from a young age, pursuing musical theater in high school and college. That passion is still evident in his approach to song craft.
Austin draws from those varied roots and readily admits to still loving musicals, being fascinated by Madrigal singers, and tuning-in to a wide range of vocal powerhouses. He channels all of these influences into his solo career, while also seeking personal innovation. For his newest project, Austin sought out musicians on the cutting-edge of the acoustic and jazz music circles. Artists proficient in theory and technique, but not afraid to lend themselves to some "far-out arrangements." The result is some of Austin's most structured, yet exciting, compositions to date with an approach that fits within his own evolving journey and personal motto, "The work continues."
Although there is a strong undercurrent of momentum and innovation that course through Austin's newest project, there is also a connection to the past with the bandleader revisiting selections from his back catalog. Offerings include "Dawn's Early Light," "Snow in the Pines," and others dating back to the 1990s. What matters, Austin points out, is that those songs evoke strong emotional responses both from the audience and himself. Played by this new ensemble, those songs feel revitalized and fresh.
When it comes to dynamics and structure, Austin taps the variety of sounds and styles he's absorbed from theater, jamming, nearly twenty years of performance, and his love of experiencing live music as a fan. It's that inner concert enthusiast that binds him to his own audience and a powerful exchange between the stage and the crowd. "I hope they take with them exactly what I hope they leave with us," he says. "And that's inspiration."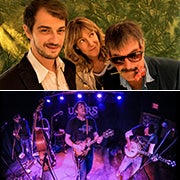 Doors

7:30 PM

Show

8:30 PM

Price

$18 Advance

$20 Day of Show

$60 Limited 4-Pack ($15 per ticket)