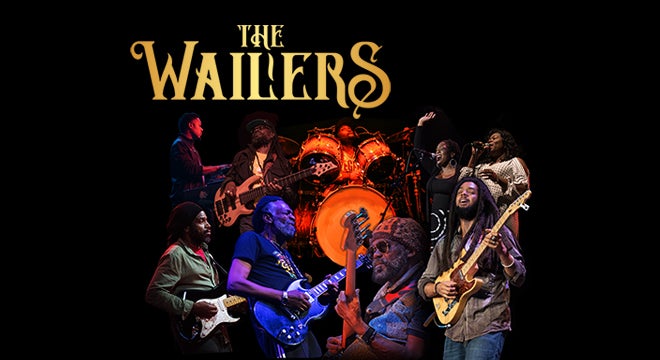 Thu, Feb 21, 2019
The Wailers
with Mighty Joshua
About The Wailers:
The legendary Wailers band returns to bring its revolutionary sound to fans around the world. Steered by famed bassist and founder Aston "Familyman" Barrett, and joined in solidarity with original Wailers' guitarist Donald Kinsey, The Wailers continue to create musical history.
From 1973 to 1980, Bob Marley & The Wailers recorded, toured and performed before millions of fans worldwide. Since 1981, Familyman and Junior Marvin have carried on the mission to "keep The Wailers together," just as Bob requested, affirming: "By doing that, you keep me alive through the music."
In tribute to the late co-founder and drummer Carlton "Carly" Barrett, The Wailers present Aston Barrett, Jr. on drums. It's startling how this young powerhouse delivers with his uncle's unique and inspiring landmark style. Lead singer Joshua David Barrett is a Rastaman by lifestyle and culture. Josh impeccably delivers Bob's powerful message of Jah love and unity through his engaging performance and interaction with the audience.
Adding to the exciting stage is veteran Owen "Dreadie" Reid on guitar & bass is a past student of Familyman, while super-charged performer Andreas Lopez rocks on keyboards. Live audio engineer Dennis Thompson, the man responsible for The Wailers sound in stadiums, clubs, and studios throughout the '70s will make special appearances as schedules permit.
There are more than 100 million Bob Marley & The Wailers recordings sold worldwide, including 1977's Exodus, anointed Best Album of the Century in 1999 by Time Magazine, and "One Love," named Song of the Millennium that same year by BBC. Spin Magazine listed Bob Marley & The Wailers at #4 of the "50 Greatest Bands of All Times," while The New York Times named Bob Marley the most significant musician of the 20th century. These accolades were made possible by the creative, timeless, and distinctive music, lyrics and production of these incomparable Wailers musicians.
About Mighty Joshua:
Independent Reggae Artist Mighty Joshua engages audiences by opening minds and activating bodies through song. Conscious lyrics flow freely to create distinctive refrains that pulse with pride against rhythms rooted in percussion. His soulful exploration in the evolution of sound creates an expression of reggae for the modern day.
As Virginia Reggae Ambassador (2015+2016) and Artist of the Year (2014, 2015, 2016) Mighty Joshua advocates for reggae music by sharing his love of the genre and culture with meaningful performances for the masses. Mighty Joshua's self-titled debut solo album is a life inspired compilation that encourages reflection and empowerment for oneself, community, and beyond. The official "Mighty Joshua" videohas aired on Virginia Currents, and his single "Full Circle" was a featured track on RelixMagazine's Compilation CD for the October/November 2014 issue distributed to subscribers and newsstands nationwide.
Mighty Joshua plays in a multitude of arrangements including high energy live performances with support of his back-up band the Zion #5 and as an acoustic configuration known as Roots Covenant. From mountain top festivals, to intimate club gigs, he invites listeners of all ages to experience the spirit of reggae.
His musical roots in African percussion led to experimenting with sound and rhythm. Soon after exposure to Djembe and Djun Djun drums they became a part of his playing repertoire which also includes the Didgeridoo. Mighty Joshua played percussion and supplied backing vocals for Corey Harris albums "Father Sun, Mother Earth" and "Fulton Hill Blues" and has opened for several internationally acclaimed reggae acts including Steel Pulse, Culture w/ Kenyatta Hill, the Meditations, the Itals, and Ziggy Marley.
Past projects include: Jah Revelations, Richmond Dub Collective, and Antero. When he's not living the life of a professional musician, he enjoys integrating music for social awareness and celebrating the impact individuals make. Mighty Joshua is dedicated to making a difference by working closely with several non-profit organizations both locally and globally, including the Makindu Children's Program in Kenya.
Doors

7:00 PM

Show

8:00 PM

Price

$22 Advance

$25 Day of Show
SHOWINGS
This event has already occurred.