Thu, Feb 18, 2016
Cherub - Still DTF? Tour
with Gibbz and Mike Floss
Jordan Kelley and Jason Huber take their fun very, very seriously. The pair behind the ambitious and emphatic Nashville duo Cherub craft hooky electro-pop that lyrically captures the risqué, pleasure-seeking impulses of their youth, while their studio expertise results in alluring grooves.

The duo met while pursuing music business degrees at Middle Tennessee State, a large public university just outside of Nashville. Prior to meeting up at a dorm party, the two were figuring out how to become their own local legends. Huber was fronting a psychedelic folk-rock band, whereas Kelley was something of a mainstay in the Nashville hip-hop scene. Well, sort of. "I was making beats for this hip-hop duo and we got to open for GZA, but I didn't know how to DJ my own stuff." After meeting Huber, "I just asked 'can you turn my beats into a live show?" Soon thereafter, Kelley sent Huber his self-composed Man of the Hour EP and the two realized the potential in their partnership. Cherub began in earnest, with Huber's live production embellishing Kelley's clever songcraft.

Fast forward a few years later, and Cherub's popularity is soaring. The pair landed a major-label deal with Columbia Records— which released their smooth, palpitating album, Year of the Caprese in May 2014 — based in part on the runaway success of break-out single "Doses and Mimosas." A FTW anthem that pits dripping falsettos against echo-chamber synths, it jettisoned to the top of The Hype Machine charts, while landing concurrently on Billboard's Rock Airplay and Alternative Songs charts. Meanwhile, its DIY fever-dream video had attracted roughly 5 million sets of eyeballs on YouTube. And that was merely one of Cherub's songs.

On Year of the Caprese — recorded over two years, with help from friend/engineer Nick Curtis — you can find a song like "Disco Shit" (a shimmering high-five to hedonism posited on rubber-band beats) alongside "Freaky Me, Freaky You" (a more wound-down '90s-esque slow jam). One of Caprese's more stand-out contemplative tracks, the latter finds Jordan delivering tortured sweet nothings in an almost unrecognizable tenor. "That's from a perspective of someone thinking that they know what is going on in a relationship but they really don't," he said of the Teddy Pendergrass-sampling song. The album debuted on Billboard's Top 200 and Digital Album Charts, and an electric performance at Bonnaroo lead to a late night TV booking on CONAN this past fall. In December 2014, the guys released The Leftovers EP, which served as a culmination of their many years of hard work.

But even before Year of the Caprese and The Leftovers, Cherub sprang to life with the self-release of the Man of the Hour EP in 2010. A debut album, Mom & Dad, and two subsequent EPs (100 Bottles and Antipasto) followed — along with a sprawling grassroots following born off three years of touring, earning the duo somewhat of a reputation for their live shows and as such, there is a certain degree of built-in elation expected from Cherub, live.

"Some people question how authentic or serious we are about music," Jordan says. "All of it is from the heart. Me and Jason try hard not to create some sort of cool-guy environment — we want people to feel comfortable." And sometimes that means pulling listeners out of their comfort zones. Says Jason, "We're serious about what we do, but we're also here to remind them to take themselves less serious once in a while."

The duo is currently in the studio recording a new album.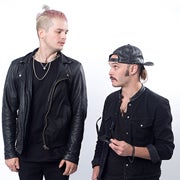 Doors

8:00 PM

Show

9:00 PM

Price

$20 Advance

$22 Day of Show
SHOWINGS
This event has already occurred.