Wed, Sep 1, 2021
Brent Cobb and Nikki Lane: Soap Box Derby Tour
with Andrew Combs
About Brent Cobbs:
For his fourth album, Keep 'Em on They Toes, Brent Cobb is giving his songs the space they need to speak for themselves, a reflection of his own decision to write about the way he sees the world.

"My last couple of albums have been about people and places, and I wanted this album to be about thoughts and feelings," he says. "I think it's pretty easy to look around and see what's going on in the world. With my heroes and the people that I listen to, it seems like the natural progression for me."

Yet at his core, Cobb still writes country songs, so there's a continuity between Keep 'Em on They Toes and past projects like 2016's Shine on Rainy Day (a Grammy nominee for Best Americana Album) and 2018's Providence Canyon, named for a gorge near his hometown of Ellaville, Georgia. After living in Los Angeles and Nashville to develop his music career, Cobb and his family moved back to Georgia a few years ago -- a decision that he says absolutely affected his songwriting.

"It's funny because the last two albums were about me growing up in Georgia, and now we're back here," he says. "I'm not writing about missing it anymore, so the songs are coming from within now. It's not a longing for home, it's what I think about now that I live down here."

Cobb forges a personal connection throughout Keep 'Em on They Toes, just as his musical heroes have done before him. "To me, listening to this album feels like I'm sitting there with somebody, having a conversation," Cobb says. "I would hope that it feels like sitting with an old friend you haven't seen in a while. There's nothing like being alone and listening to an album that is quiet and conversational -- like those old records by Jerry Lee Lewis, Roger Miller, or Willie Nelson. I hope my music is that way to somebody now."
About Nikki Lane: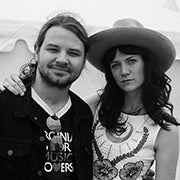 Doors

6:30 PM

Show

7:30 PM

Price

$25 - Advance
$25 - Door