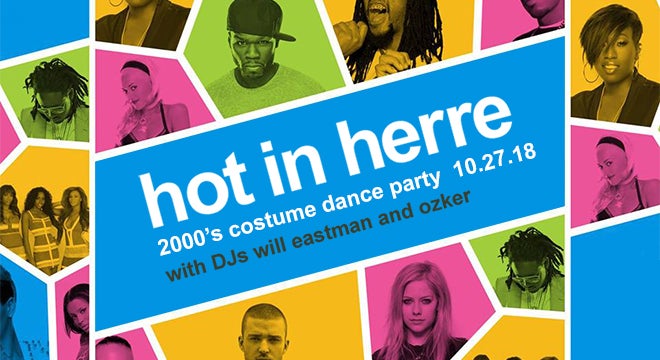 Hot in Herre - 2000s Costume Dance Party & Costume Contest
Sat, Oct 27, 2018
Hot in Herre - 2000s Costume Dance Party & Costume Contest
with DJs Will Eastman and Ozker + visuals by Kylos
If you've seen Will Eastman and Brian Billion DJ together before you know they have no guilt about musical guilty pleasures. Neither do you. Don't even deny it. Since 2008, the duo has brought you the NO SCRUBS: 90's Dance Party where 2Pac and Kurt Cobain exist side by side and work sold out clubs into a sweaty mass of anthemic all night sing alongs. Now it's time to bring back HOT IN HERRE: 2000's dance party, because who doesn't miss classic Justin Timberlake? Your favorite hits of the millennium including Missy, Ludacris, Destiny's Child, Jay-Z, Gwen, Akon, Britney, R Kelly, 50, The Killers, Maroon 5, Nelly (both of 'em), Rihanna, Outkast, Sean Paul, Shakira, Usher, White Stripes, Avril, T.I., Christina, Eminem, Lil Wayne, Kelis, Keri Hilson, Lil Jon, M.I.A., Rick Ross, Pharrell, T-Pain, Timbaland, Kelly Clarkson, Kanye and more.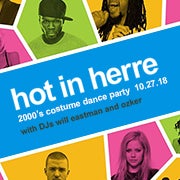 Doors

9:00 PM

Show

9:00 PM

Price

$10 General Admission

$30 4-Pack ($7.50 per ticket)

AGES 18+
SHOWINGS
This event has already occurred.