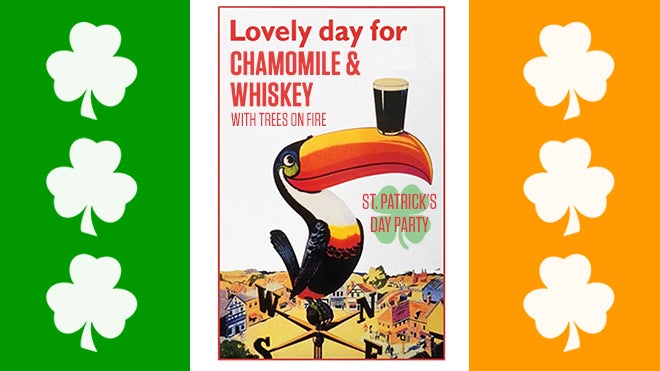 Chamomile & Whiskey with special guest Trees on Fire
Sat, Mar 17, 2018
Chamomile & Whiskey with special guest Trees on Fire
and Blue Ridge Irish Music School - St. Patrick's Day
In the spring of 2011 in Nelson County, Virginia, Koda Kerl and Marie Borgman poured some Evan Williams in a hot cup of tea and decided to start a band. The idea was to organically grow a sound based around lively shows that would not be restricted by genre. They joined forces with Irishmen Ryan Lavin and started ferociously playing as much as they could. After a year of building a reputation playing rowdy bar sets they signed with County Wide Records and cut their first EP "The Barn Sessions." The band quickly gained recognition regionally and after releasing their debut full-length record "Wandering Boots," They began touring. A few years of cross-country tours and the band started to hit their stride. They were invited to play festivals such as FloydFest, The Festy, and Arizona's Tilted Earth Festival and were able to share the stage with national acts Old Crow Medicine Show, Robert Earl Keen, Railroad Earth, Rusted Root, and the Infamous Stringdusters, among others. Their eclectic sound blends Americana and Southern Rock with Irish, Gypsy, and Old-Time all wrapped up in a raging live performance. The band hasn't slowed down - averaging nearly 150 shows a year, the band continues to look ahead. Their sophomore record "Sweet Afton" was released in 2017.
"[Q]uality is the essential element that unites [Trees on Fire's] music… [T]he fresh
pairing of music, activism[, and…] commitment of presence [they] bring
to performances will grab listeners in each song."
– David Brian James, Tribes Magazine

"[Trees on Fire's] music is a reflection of the current crisis we're all in right now around the globe and the need to make some better decisions," says Rob Mezzanotte (vocals, guitar, saxophone, keys), whom shares the same sentiments as his band members: Justin Esposito (keys, violin, guitar, vocals), Blake Hunter (guitar, vocals), Paul Rosner (drums, vocals), and Brian Wahl (bass). "There's a lot of injustice that needs to change. We've got to realize that we're all connected through a fine thread with our ecosystem and everything that's in it."

Trees on Fire first sprouted its roots in 2005 amidst the hills and woodlands of Charlottesville, Virginia. The quintet, lauded by many as "hybrid-rock geniuses," has been scorching the music scene since its inception. Daily rehearsals, frequent live performances, and collective ecosystem platforms cultivate the band's undeniable chemistry. The mix of two former opera singers turned prolific songwriters, two symphonic virtuosos turned rock 'n' rollers, and one irrefutably tasteful percussionist creates a dynamic blend of sounds.

Known for its ear-catching fusion of reggae, hip hop, rock, electronica, classical, klezmer, funk, and beyond, Buzz News Reporter Ken Payne hails Trees on Fire's "razor-sharp four-part harmonies and organic world rhythms… original, innovative grooves [with] inspirational messages…" It's no surprise the band's high-energy and multi-cultural melodies lure and stir the senses of wide audiences, while Dave Matthews Band's Boyd Tinsley attests "[Trees on Fire is] a band to watch for sure."

Organica (2010), Trees on Fire's debut full-length album delivers "chill funk to rockin' funk mingled with organic soul," says Helen Brown, Director, Vice President and Correspondent of Magazine 33. Produced by Trees on Fire, alongside mastermind producers Rob Evans (Dave Matthews Band, Tim Reynolds Trio) and Eric Heigle, Organica, as Brown describes, "takes listeners from the heights of the ancient Blue Ridge Mountains to the buzzing swamps and bayous of the bottom-land." Recorded in the woods of central Virginia and at Louisiana's hidden gem, Dockside Studios, where such artists as BB King, Taj Mahal, Mark Knopfler, and Sonny Landreth have recorded, Organica is the first of what is sure to be many Trees on Fire albums.

Trees on Fire's first release, The Green Room (2007), similarly captured the band's genre-blending tendencies. Pulling from such diverse influences as Bob Marley, the Beatles, Bach, Chopin, Jimi Hendrix, Jeff Buckley, Cake, Radiohead, the Meters, Beck, Iron and Wine, Led Zeppelin, Stray Cats, and Miles, Trees on Fire creates an authentic earthy sound, revealing the band's burning passion to not just spread love, goodwill, and great music, but to expand, explore, and enjoy every minute of the experience.

Organica and The Green Room reflect only a part of the legacy the band intends to leave behind. Tracks such as "Falling Down," "Into the Fire," "Take a Seat," and "Birds and the Bees" explore themes that also cultivate a better planet and challenge corporate and political leaders to notice the increasing need for energy policy change. Trees on Fire particularly seeks to help eliminate the devastating practices of mountaintop removal, coal mining in Appalachia, and clear-cutting of the Atchafalaya River Basin in Louisiana. As a testament to Trees on Fire's commitment, the band also donates five-percent of the proceeds from its album sales to two key organizations, Atchafalaya Basinkeeper and Appalachian Voices, which dedicate resources to preserve the earth's invaluable natural landscapes.

Recognized for raising awareness and funds for a number of other organizations, including Sierra Club, Building Goodness Foundation, Climate Ride, Chesapeake Climate Action Network, and others, Blue Ridge Outdoors Magazine has voted Trees on Fire as the "Greenest Regional Band" and Sierra Club has acknowledged the band's efforts on its website. Kid Pan Alley, an organization which inspires children to create music by pairing them as songwriters with professional musicians, further featured Trees on Fire on its compilation CD, along with tracks from Cracker, Jesse Winchester, members of Everything, and actress Sissy Spacek.

"Trees on Fire's stellar written and recorded tunes compliment the band's dedication to promote sustainable environmental as well as valiant community service practices, exhibiting one of the various reasons we selected [the band] as the winner of our Music Division competition," states Gabrielle Bailey, Senior Public Relations Associate of Silver Starr Art Studios LLC. Stay tuned, Trees on Fire 2010-2011 nationwide tour, coming to a city near you. For more details about Trees on Fire and their blazing music, visit www.treesonfire.com.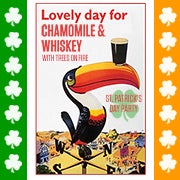 Doors

7:00 PM

Show

8:00 PM

Price

$12 Advance

$15 Day of Show
SHOWINGS
This event has already occurred.