AHS Jazz Band 1st Annual 'Swing into Spring' Benefit Concert
Sun, Mar 11, 2018
AHS Jazz Band 1st Annual 'Swing into Spring' Benefit Concert
ALBEMARLE HIGH SCHOOL (AHS) JAZZ BAND TO HOST FIRST ANNUAL SWING INTO SPRING BENEFIT CONCERT
Award-Winning Ensemble to Be Joined by Roster of Leading Local Musicians
Proceeds to Support Upcoming Trip to Prestigious Swing Central Jazz Competition in Savannah, Georgia
The nationally-acclaimed Albemarle High School (AHS) Jazz Band is gearing up for its first annual "Swing into Spring" benefit concert! The event will feature the band performing a set list full of jazz standards and pop/R&B hits that span decades and are bound to get people on their feet. And as a special treat for local music lovers, the evening will feature an all-star cast of the area's top musicians sitting in with the ensemble including John D'earth, Veronica Swift, Stephanie Nakasian, Erin Lunsford, Robert Jospé, Jamal Millner, Charles Owens, Devon Sproule, Terri Allard, Michael Coleman, John Kelly, Madeline Holly Sales, Berto Sales, Chance Dickerson, Dan Barrale and more!
The award-winning AHS Jazz Band, under the direction of Greg Thomas, has for decades earned high profile regional and national recognition for its consistent dedication to excellence and for its unwavering respect and love for this most uniquely American art form. The group, which recently took honors at the prestigious Essentially Ellington regional competition in Arlington, is raising funds to travel to Savannah, Georgia, where it is one of only 12 high school jazz bands from across America chosen to participate in the prestigious Swing Central Jazz competition at the Savannah Music Festival in April. The event will include two days of clinics with some of the leading jazz musicians and instructors in the United States, including members of the Jazz at Lincoln Center Jazz Orchestra, and will finish with a juried competition.
"This is an extraordinary opportunity for our students to interact with and play for some of the finest jazz musicians in the world today," Thomas said. "Their selection is a testament to their incredible commitment to this music, to this program, and to each other, and we thought this event would be a great way to share their gifts with the community."
As an added bonus for the community, event organizers have invited a host of the area's most popular musicians to sit in with the band for a song. "We live in such an extraordinary musical community," Thomas said. "And we thought it would be really fun for our kids and for the audience if some of them joined us on stage. We've been overwhelmed with the positive response we've received from musicians." Thomas and musician/WHTJ PBS show host, Terri Allard, will emcee the event.
A GoFundMe page for the Albemarle High School trip to the Swing Central event in Savannah is up and running and donations can be made at https://www.gofundme.com/sendahsjazztosavannah
Donations may also be made on the Jefferson Theater event ticketing page.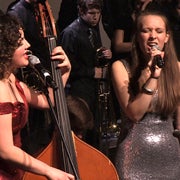 Doors

6:00 PM

Show

7:00 PM

Price

$20 Reserved Advance

$25 Gold Circle Advance

$15 Standing Room Only Advance

$23 Reserved Day of Show

$28 Gold Circle Day of Show

$18 Standing Room Only Day of Show
SHOWINGS
This event has already occurred.