Fri, Mar 21, 2014
Chamomile & Whiskey and David Wax Museum
with The Dericks
About Chamomile & Whiskey:

Chamomile and Whiskey has been tearing up the Blue Ridge and beyond for over 2 years. The band's ferocious mixture of americana and rock with gypsy, irish, and old-time music is captivating and invigorating. Koda Kerl's smooth and soulful singing goes with his deep and poignant lyrics like whiskey poured over ice. Ryan Lavin's innovative banjo solos and imaginative song-writing is more like a straight shot... Marie Borgman's versatile fiddle playing serves as the band's main lead, with a pulsating rhythm section following each swing of the bow. On stage the band lights up with energy and passion, leading crowds in a boot-stomping frenzy. The group has quickly become one of the hottest up and coming band's in central Virginia, representing the fire and lust of the Blue Ridge.

About David Wax Museum:

When future music historians look back at the strong currents circulating between the Americas in the 21st century, they will find Los Lobos, Calexico, and a charismatic, lanky Missourian singing tight harmony with a Southern belle rattling the jawbone of a donkey. David Wax and Suz Slezak form the artistic core of the David Wax Museum, and together they fuse traditional Mexican folk with American roots and indie rock to create a Mexo-Americana aesthetic. Combining Latin rhythms, infectious melodies, and call-and-response hollering, DWM was hailed by TIME for its "virtuosic musical skill and virtuous harmonies" and has built a reputation among concertgoers all over the U.S, Canada, Europe and China for "kicking up a cloud of excitement with their high-energy border-crossing sensibility" (The New Yorker).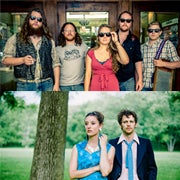 Doors

7:00 PM

Show

8:00 PM

Price

$10 General Admission
SHOWINGS
This event has already occurred.