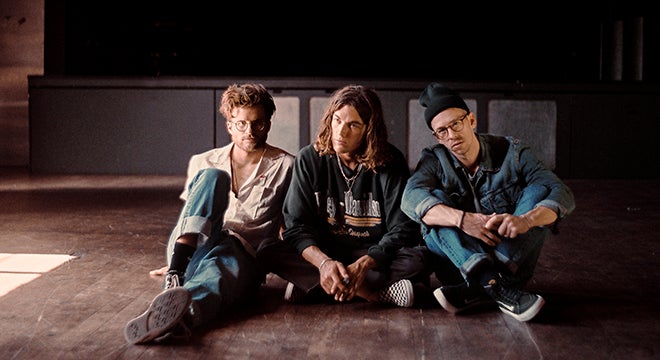 Tue, May 16, 2017
LANY
with Goody Grace
When the LA-based trio LANY first came together in 2014 their only aim was to work on a couple of tracks together, demo them, and have some fun in the process. Living on the West Coast, singer Paul was putting together a scratch band and played a handful of shows. But by the end of 2013, he says, he knew that something had to give. Which is where Les and Jake enter the picture. Paul conceived the idea of enlisting his friends' help on that brief trip to visit college friends. What none of them knew was that the step they were about to take would turn out to be so significant. In the space of four days, the trio recorded two songs – songs that would lead, in what they say seemed like the blink of an eye, to the formation of LANY and, not long afterwards, to the band signing to Polydor Records.
Six days after putting the tracks online the band found themselves fielding emails from major-label suitors. "The first question was always: 'What else do you have? We want to hear more'," says Paul. "And we went off and wrote ILYSB, and said: 'This.'" ILYSB marked the moment where LANY reached over the heads of the A&R community and started connecting directly with fans. Put simply, the song exploded online. You can see why. Encapsulating the band's "Let it breathe" philosophy, ILYSB wafts over you like a summer breeze, the yearning in its lyrics contrasting with the euphoria conjured up by the characteristically minimalist soundscape. A similar alchemy occurs repeatedly in the songs LANY put online – a succession of singles, and the EPs I Loved You and Make Out – over the course of 2015. Again and again – on songs such as BRB, Made in Hollywood, Bad, Bad, Bad, Kiss and those earliest tracks, Walk Away and Hot Lights – you are taken back to the circumstances of the band's formation. How they sensed, without having to say it out loud, that they were born to make music together.
It's hard to believe, but, until very recently, that magic was being made in a one-bedroom apartment in LA, the three friends sharing the same room, with barely enough space to swing a cat, never mind set up any recording equipment. But that's also in keeping with LANY's approach. The music comes first; the band's domestic circumstances, well, they can keep for another time. Moving to LA was, they all agree, a crucial step. They weren't abandoning their roots, they stress; but it was important for them to get out of their comfort zone. They're not chin-stroking purists or too-cool- for-school fantasists – on the contrary, they're proud of the fact that they studied music, and nailed the multiple instruments they all play, at college.
In the same spirit, they're happy to share a room if it means they can pursue their musical dreams, on their own terms. "How we started was, we were friends," says Jake, "but we were also just fans of each other. I always thought Les was the bomb, and that Paul was the coolest guy ever. So it was like, 'Ok, we seem to sort of love each other! Let's do something.'" And they did. Something called LANY. Making music that aims an arrow at your heart. Writing beautiful songs with swashes of synth, spare percussion, echoes of prime 1980s FM pop, of early-
1990s R&B, of new-wave electronica. Combining melody and lyrics to put down roots in your head, and capture your heart. Recorded in a tiny room on an ancient laptop. Creating song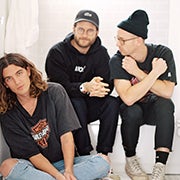 Doors

7:30 PM

Show

8:30 PM

Price

$15 Advance

$18 Day of Show
SHOWINGS
This event has already occurred.