Fri, Nov 23, 2018
2018 Hangover Ball: Chamomile & Whiskey and Lord Nelson
with Saw Black
Mason's Toy Box will be collecting gift cards, tax-deductible cash donations, and new (unwrapped) toys! Help deliver over 5,000 smiles to pediatric patients, from Charlottesville to Augusta, to Roanoke, to Richmond, and their families -- bring your donation to the show!
---
About Chamomile & Whiskey:
Growing up in Nelson County, Virginia, a small town along the Blue Ridge Mountains, Koda Kerl and Marie Borgman met each other in elementary school. Little did they know then that one day they would be touring with each other as a musical duo. While both considered the duo as a side project in the beginning, they eventually decided that it was time to sit down, formulate a band, and officially start making music. Marie made chamomile tea and luckily, Koda happened to bring a fifth of Evan Williams. They instantly decided that mix -- of earthy tea and a strong, warm kick of bourbon -- embodied the exact sound they were working toward.
In that moment, Chamomile and Whiskey was born.
The band started playing bigger venues around the nearby city of Charlottesville and eventually landed a record deal with a small, local indie label called County Line Records. In 2012, they put out a four-song debut EP titled The Barn Sessions while continuing to focus on touring. The following year, they released their first full-length album, Wandering Boots. Over the years, they added some members -- Marsh Mahon on bass, drummer Stuart Gunter, lead guitarist Drew Kimball, and banjo player/supporting vocalist Ryan Lavin (commonly referred to as just Lavin). They've toured nationally and played along giant acts at notable festivals like Floyd Fest and Festy. And in the beginning of 2016, they started working with producer Rob Evans on their second studio album, Sweet Afton.
Chamomile and Whiskey make connections between people -- they did it with their name, and they're doing it with their new album, Sweet Afton. Lavin, who was raised in Galway, Ireland, used to smoke Sweet Aftons, the cheap, unfiltered, and now defunct brand of Irish cigarettes. Coincidentally, fiddle player Marie grew up on Nelson County's well-known Afton Mountain, which also happened to be the backdrop for many of the songs from the record. Between the bluegrass fiddle melodies and traditional Irish rhythms, it's easy to hear both of these childhood connections and inspirations in Sweet Afton.
Fittingly enough, the record begins with an ode to their roots, "Nelson County". The band loaded up a cooler of beer, invited a group their favorite local musicians, and all gathered around just a couple of mics to give the track an intimate, live recording feel. The album also features the first studio recording of "Good As It Could Be", one of the band's most notable songs and a fan favorite. "Lavin wrote it years ago and it's become our 'party anthem' at shows. It's got a good energy to it, it kind of personifies who we are as a band," says lead singer and guitar player Koda. But the band isn't afraid to dig deeper -- Koda wrote the record's first single, "Gone", after the passing of his father, who was one of his biggest musical influences growing up. The emotional storytelling and sentimentality of the song is coupled with the perfect amount of pedal steel, which is one of the many instruments you can hear on the album; others include flute, cello, and a tin whistle.
In the past, the band has been dubbed "mountainous folk rock", but their combination of complex rhythmic patterns, varied influence of cultural music, and multi-utilization of instruments makes them unique, yet relatable, to a number of different genres. But beyond the skill that lies within each player of Chamomile and Whiskey is the band's ultimate goal: to genuinely engage and have fun with the audience. "We have some serious material -- some songs are lighthearted, some are serious and even sad. But at the end of the day, we really try to have a good time. We're a very energetic band and any time we have a show, we want it to be a party." Whether you're listening to Chamomile and Whiskey live or tapping your foot along at home, Sweet Afton is the unprecedented masterpiece where tradition and innovation meet.
About Lord Nelson:
Lord Nelson has won many fans over the last several years with their spirited live performances and serious musical chops. Those fans should raise a glass, because they're about to get their ears blown off with the new full-length album Through the Night, set for a late spring release. The album possesses a depth of sound that can only come from the frequent addition of piano, organ, and horns to guitar-based rock. This set of songs, written on the road and between tours, explores dark themes of relationships, the political climate of the country, and what it means to spend your days in a van, traveling the highways of America.
Musically, the songs don't hesitate to dive deep into grooves, peeling off that outer layer of song craft to illustrate a wide palate. With haunting guitars, a driving rhythm section, and big chorus', this album represents a thin coat of finish on a hard worn sound. The lead-off single "Tail Lights" grapples with the joys and challenges of the road for those on it and those left at home. Other standout tracks include the powerful "Second Chances," the zeitgeist commentary of "Southern Discomfort" and "Safety Meeting." A moment of levity with the swamp tinged "Good Time" provides a snapshot into the simple pleasures.
Produced over the last year by Dave Stipe (Rockfish Music) at Monkeyclaus Studio in Nelson County, VA, the record has a full, Rock'n'Roll identity, heavily laced with Americana and Soul. Whether it's a fat horn section under a slide guitar riff, propelling it powerfully forward, or a harmony vocal giving the song an extra dimension, the album illustrates the power of a band bringing lyric driven songs to full expression. As anyone who has seen their live show will tell you, while there are several excellent solos and impressive individual moments, the thing that gets you – the thing that keeps you coming back – is that full sound. Sonically, the band is greater than the sum of its parts, in the best possible way.
The unified musicianship of the band serves as a solid home base for the searching lyrics of lead singer and guitarist Kai Crowe-Getty. In addition, the band's multi-instrumentalist, Henry Jones, takes a break from keys and trombone to jump on the mic for a few tracks, bringing an R&B urgency. The current lineup includes Jones's brother Calloway on lead guitar, Andrew Hollifield on bass, and Johnny Stubblefield behind the sticks. With a full tour of the east coast and points west in the works, this is a band in command of their sound, bringing strong songs in hard times to towns across the country. Keep your head up.
About Saw Black:
Saw Black reaches higher with Water Tower, a fitting follow up to his basement gem Azalea Days. Water Tower expands on the self-reflective nature of Azalea Days but brings a bigger band and a higher production value to the table. With 14 songs this collage of sounds and short pop-structured songs chronicles Saw's year of touring, songwriting and learning how to love again.
Recorded between 3 separate studios with 3 different line-ups Water Tower comes together as an American record about writing records and music. What does it mean to be a person who plays guitar and sings songs about life and love? Saw confronts these questions as a common thread on his second effort. An art handler by trade, Saw Black is also producer and co-owner of Crystal Pistol Records. He began playing music when his grandfather, a jazz piano player, gave him an electric guitar at the age of 11. Now 29 and having taken on every role within the recording process he presses onward and upward. Water Tower is out via WarHen Records in collaboration with Crystal Pistol Records.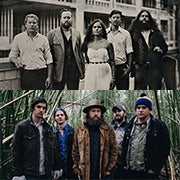 Doors

7:00 PM

Show

8:00 PM

Price

$12 Advance

$15 Day of Show

$40 4-Pack ($10 per ticket)
SHOWINGS
This event has already occurred.