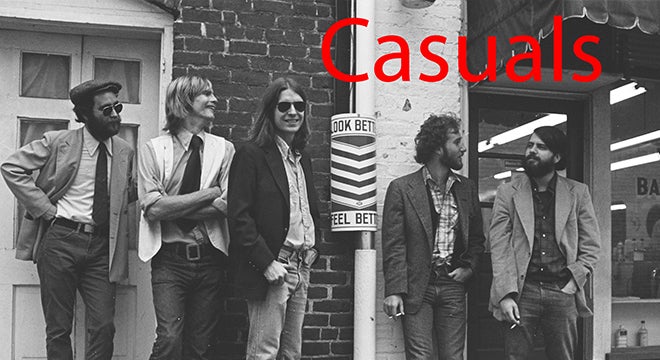 An Evening with The Casuals ft. Johnny Sportcoat
Fri, Jun 1, 2018
An Evening with The Casuals ft. Johnny Sportcoat
presented by Generations 102.3
The Casuals began in the spring of 1979, when local vocalist Bob Girard and law student Bryan Yates lined up drummer Gibby Dammann, guitarist Dennis Guinan, and bassist Bob Otte to play a few gigs at local bars. They had a theory that the town of Charlottesville was ready for a guitar-oriented band that played British New Wave and a variety of music from all over the world, and it turned out they were right.
The Casuals covered songs by artists like Elvis Costello, Graham Parker, the Grateful Dead, Tom Petty, the Clash, Captain Beefheart, Mighty Sparrow, Harry Belafonte, David Lindley, Richard Thompson, Talking Heads, and Little Feat. But they gave these songs a sound of their own, courtesy of Girard's distinctive vocals and the impressive two-guitar attack from Bryan Yates and Dennis Guinan. They started out playing at clubs like the West Virginian, The Pavilion XI, and the C&O, graduated to UVa frat parties, and within a few months, began a rotation of regular appearances in Richmond, Harrisonburg, DC, Virginia Beach, and all points North and South.
From the start, the Casuals were a band where anything could happen at a gig, especially with the virtuosity of Dennis Guinan who could (and often did) play anything at the drop of a hat. Their songs rarely had static arrangements and would often morph into songs they'd never played before. And the crowds seemed to love the "let's get loose" quality of this super-tight band.
The Casuals opened for some great acts over the years: NRBQ (of course), the Fabulous Thunderbirds, Stevie Ray Vaughn, Danny Gatton, Bonnie Raitt, Elvin Bishop, and many others. They released two albums: Walk Faster (1981) and Statewide Joyride (1986). But all good things come to an end, and the band dissolved in 1988. They've reunited every couple of years to rekindle the spirit that made them one of Charlottesville's most popular and unpredictable bands.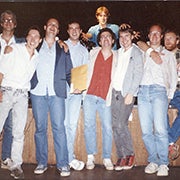 Doors

7:00 PM

Show

8:00 PM

Price

$12 Advance

$15 Day of Show

$40 4-Pack ($10 per ticket)
SHOWINGS
This event has already occurred.