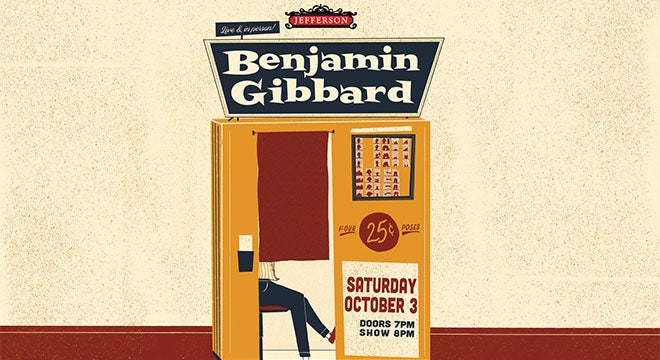 CANCELED - Benjamin Gibbard (of Death Cab for Cutie)
Sat, Oct 3, 2020
CANCELED - Benjamin Gibbard (of Death Cab for Cutie)
with Johnathan Rice
"Hey all,
With the current uncertainty surrounding the evolving Coronavirus (COVID-19) pandemic, I've decided to cancel all my October solo shows (that were originally scheduled for April). I'm looking forward to coming back when it's safe to tour again.
Refunds are available at point of purchase.
Until we can all see each other again in the same room, I'll continue to do Live From Home shows weekly through the month of May.
Take care of yourselves, be well, and thank you for your understanding.
xo
Ben"
About Benjamin Gibbard:
Ben Gibbard is a singer, songwriter and guitarist. He is the lead vocalist and guitarist of Death Cab for Cutie, with which he has recorded nine studio albums, and is one half of the electronic duo the Postal Service.
Gibbard released his debut solo album, Former Lives, in 2012, and a collaborative studio album, One Fast Move or I'm Gone (2009), with Uncle Tupelo and Son Volt's Jay Farrar.
About Johnathan Rice:
On May 10th, Johnathan Rice released his latest LP, "The Long Game."
"This album is an honest look at what it's like to be in a relationship that's disintegrating," says Johnathan Rice. "It was important for me that the songs be unflinching in recognizing my own complicity in that experience, though, because I wasn't interested in just playing the victim or wallowing in heartbreak. I wanted to paint a 360-degree view of everything that's wonderfully beautiful and wonderfully sad about love all at the same time."
Hailed by NPR's World Café as a songwriter capable of being both "wry and brooding," Rice has always contained multitudes: he signed his first record deal at 19, the same year he made his film debut as Roy Orbison alongside Joaquin Phoenix's Johnny Cash in Walk The Line; he released three solo records that earned tour dates with artists as varied as R.E.M., Ray LaMontagne, Pavement, and Phoenix; he wrote and produced for a slew of well-known artists and collaborated with everyone from Elvis Costello to Jonathan Wilson; and he even published an acclaimed book of poetry. But Rice's latest album, 'The Long Game,' demonstrates a new kind of range and depth, stripping his songs back to their most elemental selves in order to reveal naked reflections on loss, pain, acceptance, and growth. Written during a time of turbulent emotional upheaval and self-discovery, the collection finds the Scottish-American songwriter's full-bodied baritone in the spotlight like never before, often relying on nothing more than his deeply evocative voice and poetic grace to conjure up whole worlds of darkness and light. The songs are bold in their austerity, unafraid of empty space and raw vulnerability, and the starkness of the performances enables even the subtlest flourish to land like a hammer. There is no pretense of artifice or affectation here; the lines between singer and song are erased, and for Rice, that's been a long time coming.
"I spent the last few years writing primarily for other voices," he explains. "I wrote with Jenny Lewis for her 'Voyager' record, I wrote with The Apache Relay for their self-titled, I wrote almost an entire record's worth of material for the Anne Hathaway film 'Song One,' I wrote for Meryl Streep in 'Ricki and the Flash.' It was only when my life changed abruptly in a very jarring way that I realized I had no choice but to get back to writing as myself."
That abrupt change came in the form of a slow-motion breakup, one which saw Rice leave the Laurel Canyon home he'd shared with his partner for roughly a decade and begin a period of itinerancy and exploration. He moved from neighborhood to neighborhood in LA, surfing his way through a series of Airbnb's until he eventually settled in a friend's spare apartment for a little more than six months of intensive writing and reflecting.
"There was a studio next door that was part of the same property, and I would go to sleep each night listening to folks like Father John Misty or Roger Waters recording their albums," says Rice. "I was listening to a lot of other people making records at the same time I was getting deep into writing my own."
While 'The Long Game' is Rice's fourth studio record under his own name, it's his first collaboration with celebrated producer Tony Berg (Phoebe Bridgers, Aimee Mann), a longtime friend who played an integral role in shaping the album's character. It was Berg who encouraged Rice to drop his vocal range deeper, a move that simultaneously evokes the weary cynicism of Leonard Cohen and the cinematic romance of Frank Sinatra's more downbeat work, and it was Berg who insisted that Rice record the collection the same way he'd spent much the previous year: alone.
"The entire record is built around me being alone," explains Rice. "Tony was extremely clear about wanting to capture performances with just me and my guitar, and then once we had the take, we'd invite other musicians to come flesh things out a little bit. When it came time to mix the record, we ended up doubling down on the starkness even more."
The record opens with the wistful title track, a duet with acclaimed singer/songwriter Courtney Marie Andrews, whose unmistakable voice adds a gorgeous and melancholic counterpoint to Rice's compellingly restrained delivery. Regretful without bitterness, aching without self-pity, optimistic without naivety, the song encapsulates much of the album's emotional and sonic themes, offering up a snapshot of a narrator reconciling with disappointment while recognizing it for the necessity that it is. On the waltzing "Silver Song," an older co-write with Jenny Lewis, Rice conjures up a dreamy world where happiness is always just out of reach, while the stunning "Hollow Jubilee" spins an allegory for the willful escapism and empty self-destruction of LA's perpetual party, and the acerbic "Meet The Mother" takes an off-the-cuff turn of phrase and transforms it into a Suicide-meets-"Nebraska" gem. "Some fruit rolls far / Far from the tree / But it still holds / The same bad seeds," Rice sings over a barren, pulsating guitar and drum combo. "So before that big fat knot is tied / …You've got to meet the mother / Before you kiss the bride."
"I ended up in a conversation with Bill Murray one night about relationships, and he told me, 'Well, you've got to meet the mother,'" recalls Rice. "I carried that phrase with me for years. It felt totemic."
The song is a prime showcase for Rice's trenchant humor, a defining characteristic of his personality both on and off the stage. In 2016, his biting wit led him to begin posting tongue-in-cheek haikus on Instagram, playful little slice-of-life observations drawn from the absurdity of modern culture. The posts garnered a cult following (including amongst celebrities like January Jones and Mandy Moore, who recorded themselves reciting Rice's poems) and led to a book deal with LA's Hat & Beard Press, which published 'Farewell, My Dudes: 69 Dystopian Haikus' to rave reviews. The collection became the fastest selling book in the company's history and prompted W Magazine to dub Rice "the beat poet of the Instagram generation."
"I think people connected with the haikus because, for the most part, we all like to laugh at ourselves," says Rice. "There's a one-dimensional aspect to the idea of the modern singer/songwriter as a sad guy with a guitar, but that's never been who I am."
Rice's versatility has long been his hallmark, and 'The Long Game' is no different in that respect. The elegiac "Naked In The Lake" evokes the faded glamour of a vintage film noir, while the raucous "Below The Deck" gives in to its own most debaucherous impulses, and the soaring "Millions of Miles," another duet with Andrews, bids farewell to a relationship that wasn't supposed to end. As the album progresses, so does Rice's perspective, and by the record's concluding track, "Friends," he's found an easy, gentle kind of peace, one that acknowledges pain but insists upon love.
"That song had to come last because it has a sense of resolution," reflects Rice. "There's some understanding in there, some forgiveness. I've come to learn that forgiveness is a thing you do for someone else, but it's mostly a thing you do for yourself."
SHOWINGS
This event has already occurred.