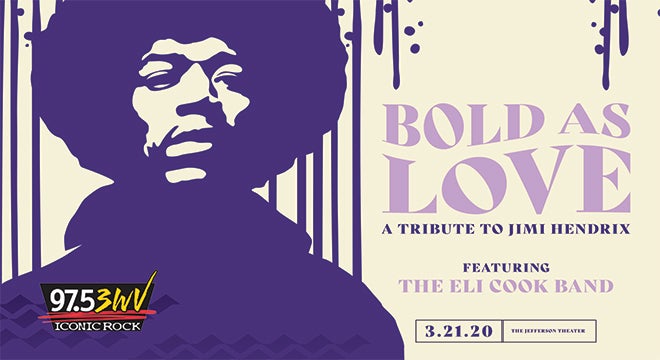 Bold As Love: A Jimi Hendrix Tribute
Sat, Mar 21, 2020
Bold As Love: A Jimi Hendrix Tribute
ft. Eli Cook Band - Welcomed by 97.5 3WV
About Bold As Love: A Tribute to Jimi Hendrix ft. Eli Cook Band:
For decades, the psychedelic blues of Jimi Hendrix has inspired countless musicians. His iconic blend of innovative guitar playing, imaginative songwriting, and mind-altering live performances has remained an essential example of rock and roll genius
Eli Cook has been developing a wide selection of Hendrix compositions over several years, and brings them to the stage in an exhilarating tribute that includes original arrangements, along with note-for-note renditions, both acoustic and electric. Prepare to hear "live versions" as well as medleys, extended jams, and creative re-imaginings of Hendrix classics, including material even the most devoted fan may not have heard. Eli presents these interpretations in an inspired and unique style that keeps the spirit of Jimi alive for both old and new audiences.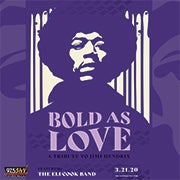 Doors

7:00 PM

Show

8:00 PM

Price

$15 Advance

$15 Day of Show

$50 4-Pack ($12.50 per ticket)