Cody Purvis & Jacob Bryant
Sat, Aug 14, 2021
Cody Purvis & Jacob Bryant
Presented by 99.7 CYK
About Cody Purvis:
Cody Purvis sometimes walks down Music City's famed Lower Broad listening to the myriad of songs pouring onto the historic street. Like thousands of other music lovers who flock there, he finds himself drawn to the "real country music."
"I love walking down Broadway and thinking about all the real country singers who have walked that same street. Those are the people who are my musical influences", which made him the perfect candidate for USA Networks inaugural season of "Real Country" where he was recently invited to showcase on National Television by Legendary panelist Travis Tritt. The Charlottesville, Virginia native's earliest memories are of listening to his parents as they performed in country music bands.
"I wanted to follow in their footsteps and real country music was something that rang true for me. I know there's still a demand for it. I want to provide for that demand. Those listeners are my audience."
You can hear Cody's deliverance of said demand in his current EP, Boots On The Ground. Specifically in the over 6.5 Million and counting Streaming single, "Drinking Terms" available everywhere digitally and previously featured on Spotify's Largest Country Editorial list, as well as Sirius/XM's The Highway. Along with his follow up single, "Whiskey" currently rapidly moving forward in the streaming world. Cody was also featured as Spotify's, New Boots Cover, "Artist Discovery" for May 19'.
About Jacob Bryant:
In the space of a few short years, Jacob Bryant has proved himself one of country music's true outlaw singer / songwriters. But there's a big heart beneath that tattooed and bearded exterior...
A hard-charging country rocker with a sound that blends the narrative aspects of country with the kick of southern rock, the rural North Georgia native has earned his stripes shedding light on life's darkest corners, using a booming
pure-country baritone to enhance both music and message.
But he's always filled his songs with compassion and empathy, not reckless abandon, using past experience to fuel creative instincts, as shown on debut album, 'Practice What I Preach'.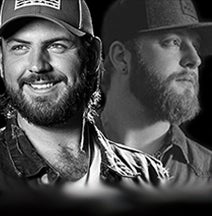 Doors

6:30 PM

Show

7:30 PM

Price

$18 - Advance
$22 - Day of Show