Fri, Jun 6, 2014
Hackensaw Boys
with Elby Brass
With feet firmly planted in the old-time song tradition, hands soiled by the dirt of rock n' roll and eyes fixed steadily on the future of real country music, the Hackensaw Boys are among the most exciting groups charting new territory in today's diverse Americana music scene.
How does it work?
Everybody sings a bit of lead, everybody sings a bit of harmony and most members know when to shut up. Instrumentation includes banjo, guitar, mandolin, fiddle, harmonica, upright bass, charismo (a home-made tin can contraption) and the occasional trap kit.
Where do they come from?
In the beginning they all lived in Charlottesville, VA, but now the members are spread throughout Virginia, Tennessee, North Carolina, and Louisiana. For more than a decade, however, they've come together to tour the United States, Europe and the U.K. and to record several critically acclaimed albums.
Who are they?
The group's lineup includes:
• Ferd Moyse (strings and horsehair)
• Jimmy Stelling (thumb picks)
• Brian Gorby (traps and sticks)
• David Sickmen (strings and improvised straps)
• Zach Shedd (stand up strings and fingers)
Tour Manager/Merchandise
•Greg Grissett
What's new?
When asked in March of 2012 to play a show in celebration of the life of a fallen fan in Kinderdijk, The Netherlands, the Hackensaw Boys proudly accepted. On February 15th, 2012 René Verkerk was killed in an accident by the scoop-wheel of his windmill. The weeks following his death, friends and family gathered round and found the Hackensaw Boys were a mutual passion and comfort. René was a huge fan of the band and injected most of his relationships with their music.
On Thursday, May 24th, over 200 friends gathered in Café De Klok, the local pub, for René's celebration of life. The theme of the concert was the Hackensaw Boys' song We Are Many. From this memorial show, comes Hackensaw Boys - For the Love of a Friend, a 16 track CD including Keep It Simple and Can't Catch Me, with a 35 minute bonus DVD.
2012 also saw the release of The Old Sound of Music, Vol. 1 and The Old Sound of Music, Vol. 2, deliver original material that draws upon the songwriting talents of its members. These six-song collections are the result of recording sessions held at the decaying but comfortable Sound of Music studios on Broad Street in Richmond, VA before it moved to its new location. The recordings were mastered by Grammy award winner Charlie Pilzer at Airshow Mastering in Takoma Park, MD. As with the group's previous album, Look Out (Nettwerk Records, 2007), all songs were engineered by Library of Congress archival audio restoration specialist (and all around good guy) Bryan Hoffa.
Group History…
History
The Hackensaws have toured with a bevy of diverse acts that were quick to embrace the group's sound and songcraft, including: The Flaming Lips, Cracker, Modest Mouse, Camper Van Beethoven, The Detroit Cobras, Cake, Railroad Earth, Cheap Trick and De La Soul.
In 2003, the Hackensaw Boys were honored to serve as Charlie Louvin's backing band on that Country Music Hall of Fame member's nationwide tour.
Recent History
Appearances at numerous festivals including Pukelpop in Belgium, Bonnaroo in Tennessee, Bergenfest in Norway, Telluride in Colorado, Belfast Folk Festival in Ireland, Floyd Fest in Virginia, Lowlands in the Netherlands, Pickathon in Oregon, and more…
Ancient History
In the fall of 2000, twelve musicians and a photographer friend left the Blue Moon Diner in Charlottesville, VA in a 1964 GMC motorcoach ("The Dirty Bird") and circled the country on a six-week tour of theaters, bars, street corners and alleys.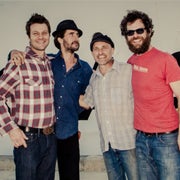 Doors

8:00 PM

Show

9:00 PM

Price

$15 General Admission
SHOWINGS
This event has already occurred.