Mon, Nov 22, 2021
Houndmouth
with Ona
This is a rescheduled performace from September 22. All original tickets will be valid for this date.
---
That first November 2011 night, when it all fell together at the Green House, was nothing more complicated than four friends playing music, armed with something to drink and a curiosity about what might happen. They were the generation who has come of age in the new economy, already adept at shuffling jobs and get-bys, firmly acclimated to the diminished expectations that come with growing up somewhere the rest of the world assumes is nowhere. Which, in this case, is New Albany, Indiana.
Houndmouth, then, knew each other from…around. Matt Myers and Zak Appleby had played in cover bands together for years, schooled in blues and classic rock and Motown, toughened by indifferent audiences and the clatter of empty bottles. Matt and Katie Toupin had worked as an acoustic duo for three years, when she wasn't on the road tending to a straight job. Katie and Shane Cody had gone to high school together, before Shane disappeared off to Chicago and New York to study audio engineering. In the beginning it was Shane and Matt who'd started knocking around at first, just drums and guitar, once Shane got home and free of a brief bluegrass flirtation.
The rest happened in a tumble, Zak and Katie switching from guitars to bass and keyboards, respectively. Four months later, their homemade EP in hand, Houndmouth made the pilgrimage to South By Southwest. Their booking agent convinced Rough Trade's Geoff Travis to come have a listen. Of such things are dreams made. Months of conversation and a proper studio later, their debut album, From the Hills Below the City, will be released by Rough Trade.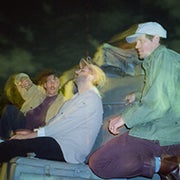 Doors

7:00 PM

Show

8:00 PM

Price

$22 - Advance
$25 - Day of Show