Thu, Mar 19, 2015
J. Roddy Walston & The Business
with Jessica Hernandez & the Deltas
The third album from J. Roddy Walston & The Business, Essential Tremors borrows its name from a nervous-system disorder that's long plagued the band's frontman. "It's this condition where my hands shake―sometimes not at all, but sometimes pretty bad," says singer/pianist/guitarist Walston. "I've referenced it throughout all our records in some way, but it made sense to be more open about it on this album, which is partly about owning and embracing your weirdness instead of letting it hold you captive because you don't even want to talk about it."
For J. Roddy Walston & The Business―who formed in 2002 in Walston's hometown of Cleveland, Tennessee―embracing weirdness means a mumble-out-loud celebration of that great and terrible burden of being human. Forcing the oft-clashing worlds of art and rock-and-roll to make nice, the band (including guitarist/vocalist Billy Gordon, bassist/vocalist Logan Davis, and drummer Steve Colmus) deals in a scrappy yet sublime sound that honors both their Southern roots and punk spirit. On Essential Tremors, J. Roddy Walston & The Business builds off that formula with a mix of heavy hooks and elegant melodies revealing their affinity for artists as disparate as Led Zeppelin, pre-disco-era Bee Gees, The Replacements, Randy Newman, and the Southern soul outfits that once populated the Stax Records label. Co-produced by Matt Wignall (Delta Spirit, Cold War Kids) and Grammy-winning producer/engineer Mark Neill (The Black Keys) at Neill's own Soil of the South Studios (a Valdosta, Georgia-based facility where J. Roddy Walston & The Business were the first to ever record), the follow-up to 2010's much-acclaimed self-titled sophomore album also finds the band crafting lyrics that ultimately serve as a secret language to the initiated listener.
"It seems like most bands write for either the animal side of people or for the side that's more in tune with the spirit or even just the psyche, but we tend to just smash all those things together," says Walston. "It's like we're writing religious songs for the animal side. We've got songs that feel like party songs but if you look at it closer, it's something more cerebral. So for the people who want to dig in and connect all the weird crosswires, the song can turn into something else." And because J. Roddy Walston & The Business is practiced in the art of subversion, he adds, "these are songs you can get away with listening to around 'the straights.' The danger is in what lies behind the codes and the prose, and how gently they unravel once you've digested them."
Endlessly shifting from snarling and stompy to warm and soulful—and often encompassing all of the above within the same note―Essential Tremors opens with "Heavy Bells," a powerhouse lead single that starts out breezy then gives way to a blistering chorus that threatens to rip Walston's sweetly ragged vocals right open. The album amps up that brutal energy on songs like "Hard Times" (an epic anthem built on a mercilessly driving bassline) and "Sweat Shock" (a track that comes off like dance-floor war cry for Native American metalheads), while "Marigold" keeps it blissfully catchy and "Black Light" offers a glammed-up bedroom boogie that could be the soundtrack to a metaphysical seduction scene. Even when turning tender (such as on the heart-on-sleeve serenade "Boys Can Never Tell," the harmony-soaked "Nobody Knows," and the album-closing stunner "Midnight Cry"), Essential Tremors burns with a raw passion that's nothing short of glorious.
Releasing their debut EP Here Comes Trouble in 2002, J. Roddy Walston & The Business relocated to Baltimore in 2004 after Walston's then-girlfriend (and now wife) began studying opera at the Peabody Conservatory of Music. Along with putting out their first full-length album (2007's Hail Mega Boys), the band devoted the next few years to earning a reputation as an incendiary live act that devotees aptly liken to "AC/DC fronted by Jerry Lee Lewis." Along with touring with the likes of The Black Keys, Lucero and the Lumineers, J. Roddy Walston & The Business have brought their joyfully chaotic performance to such festivals as Lollapalooza, Austin City Limits, and Bonnaroo. Melting all manner of stereotypes into an as-yet-unnamed breed of New American, each performance finds hipsters hugging Teamsters and sweating till it hurts, and art-school cynics and metalheads screaming out every lyric in some gorgeously desperate attempt to connect. There seems to be a competition between the band and the crowd as to who will give more each night.
While their frenetic live show remains a key element of the J. Roddy experience, Walston is careful to keep his songwriting process separate from touring. "I think it's dangerous to write songs when you're on the road, since you're so out of touch with the normal, natural human condition," he says. So before developing songs for Essential Tremors, Walston waited until he'd settled into the home he'd purchased in his newly adopted city of Richmond, Virginia. "I've sort of drifted back down South again," says Walston, who names classic Southern writers like William Faulkner and Flannery O'Connor as major influences on his own writing. "I don't think our band or our music is particularly Southern, but our sense of storytelling and use of language is very much aligned with a more Southern way of life."
Defining J. Roddy Walston & The Business as an "American band, just as much as Creedence Clearwater Revival or Big Star or The Pixies were all perfectly American at the time they were coming out," Walston notes that the Southern lifestyle serves as an infinite inspiration for his music. "It's my experience that Southerners are fully interested in the worlds of philosophy and science and spirituality and nature, but with a take on life that's softer and slower. The south has a pace that's based on patience." And in creating Essential Tremors―as well as its cryptic cover art, which Walston describes as "like if someone broke into my house and took a picture of something they maybe shouldn't have seen"―J. Roddy Walston & The Business sought to encapsulate that richness while maintaining a certain air of mystery and mysticism. "It's not about some sort of Skull and Bones thing of gaining access to an inner circle of high society," he says. "It's about feeling an intimate connection with these weird secret worlds that are the legs holding up the table of what seems like a normal, average, everyday American life―but that most people might not even know are there."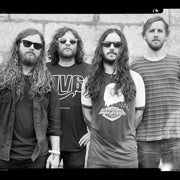 Doors

8:00 PM

Show

9:00 PM

Price

$16 Advance

$18 Day of Show
SHOWINGS
This event has already occurred.