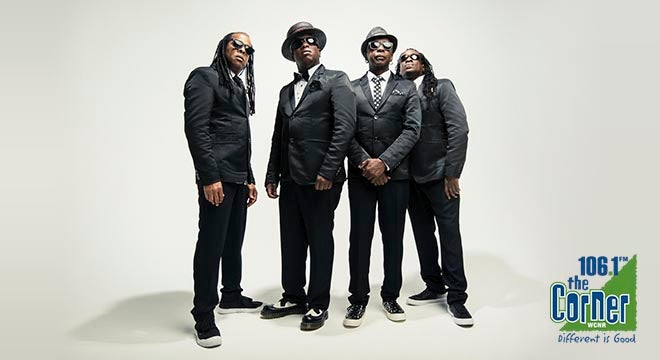 106.1 The Corner welcomes Living Colour with Egypt
Thu, Oct 19, 2017
106.1 The Corner welcomes Living Colour with Egypt
A Benefit for the CACF Heal Cville Fund
Living Colour is an American rock band from New York City, formed in 1984. Led by guitarist Vernon Reid, the bands lineup solidified in the mid-80's w/ Corey Glover (vocals), Will Calhoun (drums) and Muzz Skillings (bass). Stylistically, the band's music is a creative fusion influenced by free jazz, funk, hard rock and heavy metal. Their lyrics range from the personal to the political, in some of the latter cases attacking Eurocentrism and racism in America.

The band's debut album, "Vivid," was released in 1988 on Epic Records. The album reached #6 on the Billboard 200 Albums chart and was later certified double platinum by the RIAA. It featured "Cult of Personality," a #13 hit on the Billboard 200 Singles chart as well as the Top 40 hit, "Glamour Boys." "Cult of Personality" went on to earn the band their first Grammy Award for Best Hard Rock Performance.

In 1990 the band's second full-length album, "Time's Up," was released and reached #13 on the Billboard 200 while certifying gold. It won a Grammy Award for Best Hard Rock Album and featured guest appearances by Queen Latifah, Little Richard, Doug E. Fresh, and Maceo Parker.
Living Colour released the 6-song EP, "Biscuits" which coincided with the inaugural Lollapalooza tour in the summer of 1991.
Skillings left the band in the summer of 1992, replaced by session veteran and Sugarhill Records bass player Doug Wimbish.

"Stain," their third LP, was released in 1993 by Epic. Reaching #26 on the Billboard 200, the album had a much heavier and aggressive sound, containing elements of thrash metal and industrial music while receiving a Grammy nomination for 'Leave It Alone'.

After a split in 1995, Living Colour returned in December 2000 and began recording "Collideøscope". Released in 2003, the album featured aggressive lyrics, with many of the songs about the September 11 attacks. It also contained cover versions of AC/DC's "Back in Black" and The Beatles' "Tomorrow Never Knows."

Their first release on Megaforce Records, "The Chair in the Doorway," was issued in 2009 and reached #159 on the Billboard 200 charged by the single 'Behind The Sun'
In 2013, the band celebrated the 25th anniversary of 'Vivid' w/ a world tour crossing North and South Americas, Europe, and Japan, including the Soundwave festival in Australia.
The root of Living Colour's next album, came from a performance of Robert Johnson's "Preachin' Blues" at the 100th Anniversary Birthday celebration at the legendary Apollo in New York City. To be released in the fall of 2016, 'Shade' is the sound of a band coming to terms with its shadows and light," says founder Vernon Reid. "From the blue pulpit of Robert Johnson to the mean red streets of Brooklyn... 'Shade' is the next chapter of a unique American journey."
Egypt: The Novella

The story of Egypt began a long, long time ago in a city far away from Washington D.C., long before the sweaty shows in dank bars with black lights and day-glo paint, and long before the post -show party at "The Band House".

The true nucleus of Egypt was formed in the summer of 1984, when Joe Lawlor and Andy Waldeck met at the Berklee College of Music in Boston, Massachusetts. Andy, having just graduated from high school, chose music school as a way to get heavily immersed in a new and exciting urban music scene, and to avoid having to go to "a normal college". Joe had just finished his junior year in high school and was taking the summer music program before starting his senior year, and,, strangely enough, moving to Andy's former home town of Amherst ,Mass to live with his father... This is the first coincidence in the history of Egypt. The two became fast friends and compatriots in the ways of music, partying, and girls. They had so much in common, their paths seemed destined to cross again.

After the summer was over, Andy moved to the Virginia suburbs of Washington DC with his family, not 15 miles from the very Virginia suburb that Joe had just moved away from to attend Berklee and move to western Mass....weird. Joe's last year of high school was a good one. He played a lot of guitar and had many new friends to hang with. The town of Amherst suited him well. Andy had begun to answer classified ads in local DC news papers. He found a band called the Flip that was part new wave, part ska ,all fun. It was in the Flip that he met longtime friend. Glenn Walton, who would later drum for Egypt. The Flip was great for Andy. He learned to write great pop songs with guitarist, Steve Nally. They would sit at Bob's Big Boy, smoke tons of cigarettes and write songs about the waitress who was making sure their coffee cups were always topped off. Fast forward to a year or so. Joe is out of high school , Andy has left the Flip (or been kicked out, we're still not sure about that) and the two are looking for something exciting to dig into. Joe moves back to the DC burbs and the two begin putting together a band. They had an old friend of Joe's playing the drums and a another guy singing lead who had a great voice ,but never wrote down any lyrics, and never sang the same thing twice... Back to the drawing board. The next bizarre adventure takes Joe & Andy down to Wilmington, NC where they hook up with a full time touring top 40 dance band. This is where they get bit by the funk bug. They play 6 nights a week and really cut their teeth on the grooves of Prince, The Time, Jesse Johnson and others. Fast forward another year and the boys have grown tired of playing other peoples music. They want more creative flow. They want to use the funk and rock skills they have honed to create something original and great. And so they did...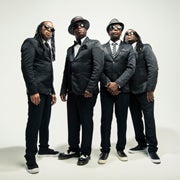 Doors

7:00 PM

Show

8:00 PM

Price

$25 Advance

$28 Day of Show
SHOWINGS
This event has already occurred.