Thu, Dec 31, 2015
A New Year's Eve Gala with Rising Appalachia
with Special Guests Birds of Chicago, Elby Brass, and your host for the evening Theresa Davis
VIP Tickets Include:
- Pre show Reception at The Southern from 6:00-8:00 with Heavy Hors D'oeuvres -Early - - Entry at The Jefferson
- Meet and Greet, an intimate Lagniappe set, autograph signing
- Commemorative poster, exclusive laminate, goodie bag
- Complimentary champagne toast at midnight
Exclusive Hotel Packages Available from The Graduate Hotel and Holiday Inn!
About Rising Appalachia: Sisters Leah Song and Chloe Smith tear into sound with sensual prowess as stages ignite revolutions and words light up soul fires. Listen to their beautiful sound for banjo and fiddle duets and poetic harmonies like only sisters can do… Joined full-time by their beloved band, Biko Casini on percussion, and David Brown on stand up bass and baritone guitar, expect everything from folk standards to jazz, to New Orleans soul, to old mountain traditionals, to activist anthems, as their style redefines folk music as a truly living art. Using sound as a tool to spark a cultural revolution and birth a new movement, come join them as they create soul sounds for us all....
About Birds Of Chicago: Their brand of rock and roll poetry can be a little hard to categorize for people insisting on categorizing . . . their voices are undoubtedly the centerpiece. Nero's fractured country soul croon is wrapped in Russell's silver and gold tones for a harmony blend like nothing else in music today. Fired by the band, it's a full tilt revival – streamlined poems, deep grooves, sharp hooks and joyful singing straight from the gut.
Birds of Chicago's self-titled, debut album, released in early 2013, was a critics darling. Glowing praise rolled in from both sides of the Atlantic for Nero and Russell's evocative poetry and simmering vocals. The decision to put their respective bands (JT's "JT & The Clouds" & Allison's "Po' Girl") on hiatus and tour together was a pivotal move, applauded by their fans, and fast growing numbers of new listeners.
After a year of hard touring, and much buzzed about appearances at summer festivals (Strawberry, High Sierra, Kerrville, Hillside, Delfest, Vancouver Island among others) they recorded a live album in front of their hometown fans. The result "Live from Space," released January 2014, captured this rising band in absolute top form. By turns raw, raucous, whispered and hushed, it revealed the band's full dynamic range. Americana UK said, "'Live From SPACE' leaves no genre unaccounted for, no touchstone unturned. A Cappella spiritual, soul, acoustic balladry, driving country rock – it's all there. And that's only the first four tracks."
Russell and Nero are most at home on the road, zigzagging across North America and Europe in their family band van, with their new baby daughter, Ida Maeve, in tow. Coming soon to some festival, theater, pub, VFW hall, roller rink or living room near you, dovetailing their voices in songs of hope, despair, love . . . and electric seahorses. It's familiar and strange stuff – the everyday and the magical – light and shadow, shadow and light. No Depression says it best, " . . . if you get the opportunity to see Birds of Chicago play live; make the effort to see them. You won't regret it."
About Elby Brass: On April 15, 2009, Lake Braddock Secondary School posted an ad on Craigslist. They had several hundred of their old marching band uniforms available, completely free for the taking. With one catch.You must take at least 50.Lake Braddock alumnus Seth Casana, never being one to pass up a deal, responded the next day. He spent a weekend hauling 150 back to his home in Fredericksburg, hats and all. He also gladly acquired a battered but solid sousaphone from the LBSS music director, Roy Holder. Armed with these new resources, a project that had merely been an idea suddenly became reality.
Fellow Fredericksburg musicians Lars Holmstrom and Chris Park had been scheming with Casana to create the ultimate street brass band. The concept was clear: all brass and percussion, all acoustic, all mobile. This would allow them the freedom to perform anywhere, anytime, all at a moment's notice.
In the following months, local musicians flocked to the newly formed band, some old friends, some new acquaintances. All had prior performance experience and each shared in the sheer excitment of this new group. Horn players in particular are often treated as an afterthought being called upon at the last minute for high-profile gigs or recording sessions. Here was a chance for the marginalized to step up and shine in all their glory.
Ever since then, ELBY BRASS has been bringing it to the streets. The heavy horn funk might catch you in the club or in your own backyard. All the world's a stage and ELBY is front and center, just look for the purple and gold.
About Theresa Davis: Theresa Davis is a poetry slam champion, published author, performance artist, educator, activist, motivational speaker and community outreach organizer. Born into a family of writers and entertainers, Theresa Davis was drawn to the arts. A classroom teacher for over 20 years, she currently teaches poetry and personal development to youth and adults.
Theresa Davis is one of Atlanta's best-known performance poets, giving voice to the things that you've been thinking but never could articulate. Theresa has gone on to forge an impressive career as a solo performer, winning poetry slams and featuring at spoken word venues around Atlanta, as well as leading writing and performance workshops, keynote addresses and headlining conferences nationally.
Theresa is a member of The Word Diversity Collective/Art Amok and represented Atlanta as a member of the 2006 - 2010 Art Amok Slam Team. In 2011 was ranked #1 female slam poet in the world after winning the Women of the World Poetry Slam in Columbus Ohio.
Theresa Davis has shared the stage with Eve Ensler, Jane Fonda, Pearl Cleage and Doria Roberts in The Vagina Monologues, with Bernice Johnson Reagan (Sweet Honey in the Rock), The Indigo Girls, Natasha Trethaway (Poet Laureate of the US), Mark Doty, Jon Goode (HBO Def Poet) and finished 2013 as the opening performer for the band Rising Appalachia .
In 2013, Theresa's first published work After This We Go Dark was released by Sibling Rivalry Press. Her poems were also published in Flicker and Spark, This Assignment is so Gay, and G.R.I.T.S. (Girls Raised In The South).
Her children Imani , Tia and Zion are her constant sources of energy and inspiration.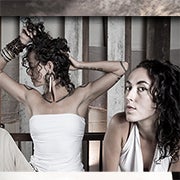 Doors

8:00 PM

Show

8:30 PM

Price

$37 Advance
$40 Day Of Show
$65 VIP
SHOWINGS
This event has already occurred.