Sat, May 4, 2019
Seductive Sounds and 100 Proof Band
About Seductive Sounds:
Central Virginia's #1 grown & sexy gogo band, seamlessly blending R&B, hip-hop, and more to create both original crank and classic gogo-style covers. Born from the ashes of Charlottesville gogo legends Double Faces, band leaders Blacko (Rob), Larry, and J.R. decided to incorporate members from the old band in addition to seeking out new players to form Seductive Sounds. Seductive Sounds's goal is to create a sound unique and their own while maintaining the spirit of classic DMV-area GoGo.
About 100 Proof Band:
Inspired by many music genre's 100 Proof Band and Show brings and array of local musician that collectively blend a broad range of music, Funk, R&B, Jazz, Neo Soul, to produce one sound. Combined as one merged with the soulful groove of DC G-Go adds flavor, with Latin congas speaking to the audience, it's sure to please your musical senses. 100 Proof Band and Show took the stage 3 years ago and have since been climbing the ladders of bands in Virginia showcasing it's talent across the state and nearby West Virginia. With a high octane pace and nonstop sets, 100 Proof Band satisfies the musical and dancing desires or their fans.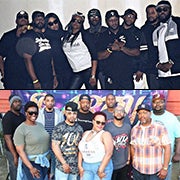 Doors

8:30 PM

Show

9:30 PM

Price

$10 Early Bird

$15 Advance

$20 Day of Show*

*Day of Show price subject to increase
SHOWINGS
This event has already occurred.