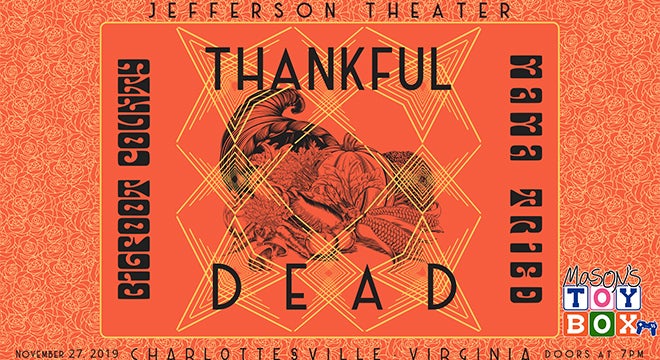 Wed, Nov 27, 2019
Thankful Dead
Featuring Bigfoot County and Mama Tried
Mason's Toy Box will be collecting gift cards, tax-deductible cash donations, and new (unwrapped) toys! Help deliver over 5,000 smiles to pediatric patients, from Charlottesville to Augusta, to Roanoke, to Richmond, and their families -- bring your donation to the show!
We will have Shakedown Street Vendors at the show!
Bridget Burkot – jewelry and scarves
Jason Amatucci – with the Virginia Industrial Hemp Coalition -https://vahemp.org/
Michael Taylor – NorthBound Train Clothing Co
https://www.facebook.com/NorthBound-Train-Clothing-Co-193771443970134/https://www.facebook.com/NorthBound-Train-Clothing-Co-193771443970134/
---
About Bigfoot County: Bigfoot County is a group of 6 musicians paying tribute to the Grateful Dead one show at a time. Bigfoot County was formed in 2010 when a group of friends, who share a love for the music of The Grateful Dead got together in former drummer Sam Navarre's basement to jam. Since then they have become a critically acclaimed live act playing to packed houses all over the region: "Bigfoot County has developed a following that often leaves standing (or dancing) room only. With their authenticity and true admiration for the Dead, the band has found a niche in the growing musical community."--Magazine33.
Over the past five years the band has evolved and taken on different incarnations, always staying true to the spirit of the Grateful Dead's music, as well as adding a different spin on the improvisation at times. Our goal is to scratch the itch that so many Deadheads feel on a regular basis.
With a large repertoire of Grateful Dead songs to choose from and exploratory improvisational musicianship, Bigfoot County's live show is not to be missed!!
About Mama Tried: Mama Tried is a 5-piece band from Charlottesville, Va., with Susan Munson on guitar and vocals, Charlie Pastorfield on guitar and vocals, Stuart Holme on bass, Kent Raine on drums, and Sam Johnston on keys, vocals and harmonica. These five play high-energy versions of early Grateful Dead songs, plus their own impressive material, with a heavy accent on improvisation. Even though their name is taken from a Merle Haggard tune, they are definitely a "jam band," with the ability to go out exploring while remaining cohesive, then get back smoothly to the original song, and make it all sound good. Members in Mama Tried also perform with some of Charlottesville's favorite bands, including Alligator, Mojo Pie, The Cows, and the Skip Castro Band. These seasoned musicians will not disappoint!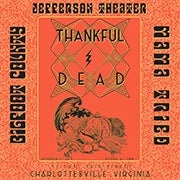 Doors

7:00 PM

Show

8:00 PM

Price

$12 Advance

$15 Day of Show

$40 Limited 4-Pack ($10 per ticket)
SHOWINGS
This event has already occurred.