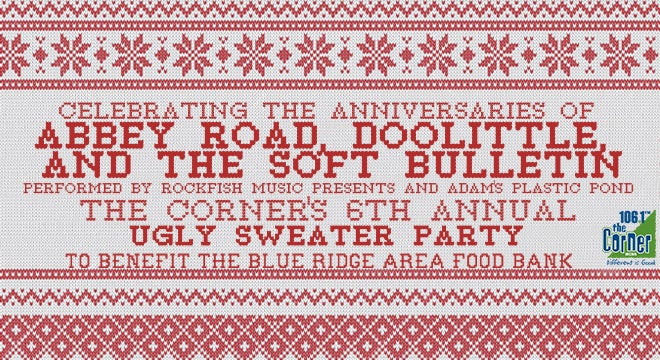 The Corner's 6th Annual Ugly Sweater Holiday Party To Benefit The Blue Ridge Area Food Bank
Sat, Dec 14, 2019
The Corner's 6th Annual Ugly Sweater Holiday Party To Benefit The Blue Ridge Area Food Bank
Celebrating the Anniversaries of Abbey Road, Doolittle, and The Soft Bulletin Performed by Rockfish Music Presents and Adam's Plastic Pond
2019 has been an amazing year in music...
It also happens to be the 10th anniversary of The Jefferson Theater...
And the 20th Anniversary of The Flaming Lips' seminal The Soft Bulletin...
And the 30th Anniversary of Pixies' essential Doolittle...
And the 50th Anniversary of The Beatles' triumphant swan song Abbey Road (somebody buy Paul & Ringo some GOLD!)
In honor of ALL of these things, 106.1 The Corner and the Blue Ridge Area Food Bank have cooked up quite a benefit/tribute for our 6th Annual Ugly Sweater Party 12/14!
The expert regional music cultivators at Rockfish Music Present A 50th Anniversary tribute to Abbey Road, featuring Lord Nelson, Will Overman, Genna Matthew, Eric Knutson and more.
And don't miss Adam's Plastic Pond performing selections from The Soft Bulletin and Doolittle, 2 of the most influential and enduring albums of the past 30 years.
Proceeds benefit The Blue Ridge Area Food Bank and as always, there will be fantastic raffle prizes, especially if you come adorned in your bestest, Ugliest sweater! Come Together for an amazing night of great music with some of Cville's finest musicians for a great cause!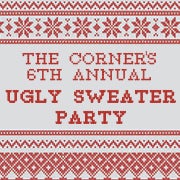 Doors

7:00 PM

Show

8:00 PM

Price

$12 Advance

$15 Day of Show

$40 Limited 4-Pack ($10 per ticket)
SHOWINGS
This event has already occurred.