Fri, Sep 24, 2021
Ani DiFranco
with Zoe Boekbinder
Ani Di Franco is a Grammy-winning musical artist and feminist icon recognized for her poetry and songwriting which pierces social convention and challenges the status quo, as well as for her social activism and political engagement. One of the first artists to create her own label in 1990, she is the mother of the DIY movement and recently released her twentieth studio album on her own Righteous Babe Records. While she has been known as the "Little Folksinger," her music has embraced many genres and collaborators ranging from Bob Dylan to Chuck D to Prince. She lives in New Orleans.
Her 22nd studio album, Revolutionary Love, was released in January 2021. Produced by Di Franco and recorded mainly in two whirlwind days at Overdub Lane in Durham, Revolutionary Love marks the latest proof of one of her most powerful gifts as an artist: a rare ability to give voice to our deepest frustrations and tensions, on both a personal and political level. As her first studio effort since the release of No Walls and the Recurring Dream (Di Franco's widely praised 2019 memoir), Revolutionary Love arrives as an instantly transportive selection of songs.
---

Nomadic at heart and a creator at their core, Zoe Boekbinder (they/them) was born on a farm into a family of four children. While music wasn't very present in their upbringing, Boekbinder recalls some of their first memories as making up songs. For them, music is as natural and as necessary as breath, and the way they engage as an activist. Boekbinder was raised, in part, by their grandfather — a Holocaust survivor. Having survived the horrific, prejudiced violence of his past, he instilled in Boekbinder a deep belief in justice, equality, and anti-racism. Songwriting has become their resistance language, a way to lift up the voices and stories of people who are marginalized by capitalism.
Using their music as a platform to bring light to stories and voices otherwise unheard, lost or forgotten, Boekbinder continues their empowering work from their hometown in New Orleans, LA, performing both as a solo artist and in collaborations with artists including Ani DiFranco, Amanda Palmer, Spoon Jackson, Jolie Holland, Neil Gaiman, and Mirah.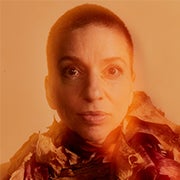 Doors

7:00 PM

Show

8:00 PM
SHOWINGS
This event has already occurred.