Tue, Sep 14, 2021
Colony House
with FLEURIE
Picture the quintessential rock band. Maybe they're standing on a grimy street corner with their arms crossed, looking tough, or maybe they're goofing around in a sunlit field. They could be wearing motorcycle jackets or cowboy shirts or feather boas. They might sound austere and angry or epic and stadium-ready. But what they have in common, regardless of aesthetic, is that they stand together, shoulder-to-shoulder, brothers and sisters in arms. A real rock band is a gang. A group of people united by a shared commitment to what matters in the world, what matters in life, and an insatiable need to communicate that sensibility to anyone else out there who might relate.
It's this idea – that your band is your life and vice versa - that bonds the four members of Nashville-based rock band Colony House. Frontman Caleb Chapman, drummer Will Chapman, guitarist Scott Mills, and bassist Parke Cottrell are all married guys in their twenties, so they don't really fit the rockstar cliché: there's no champagne cork popping or model chasing with this crew. "We always kind of joke – you think people think we're a cool band?" says Caleb, chuckling. "The joke is that we know we're not a 'cool' band. We're regular guys." But when it comes to that most sacred rock and roll thing, where you move on a mission from town to town and stage to stage getting "gnarly and sweaty" as Caleb puts it, in honor of the thing you love, this band has that part down cold. "We're not sex drugs and rock and roll," Caleb says, laughing. "We're just rock and roll."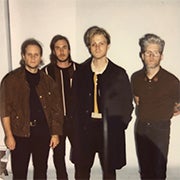 Doors

7:00 PM

Show

8:00 PM

Price

$20 - Advance
$23 - Day of Show
SHOWINGS
This event has already occurred.