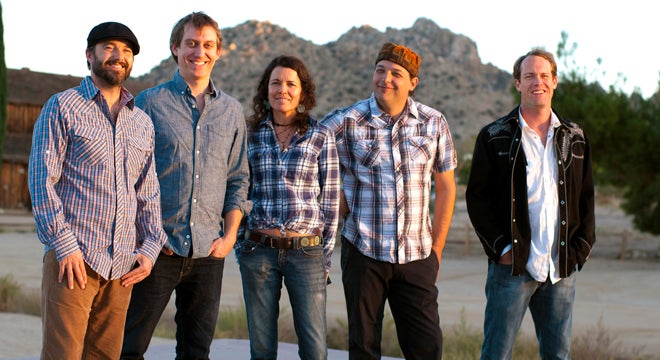 Sat, Jan 20, 2018
Donna The Buffalo
with Woody Pines
One of the most dynamic and determined bands continuously touring America for since 1989, Donna the Buffalo has created a community environment at their shows through their distinctive, groove-heavy, and danceable music. Donna the Buffalo is a band for the people that is accessible, positive, and memorable. With roots in old time fiddle music that evolved into a soulful electric American mix infused with elements of cajun/ zydeco, rock, folk, reggae, and country, Donna's music often contains social and moral responsibility as core beliefs, and they are just simply fun to get out and celebrate life with.
"For the dizzying array of styles and genres with which they work, Donna The Buffalo maintain a surprising level of consistency… over the course of their 25-year career, they retain a sharp focus that has helped them create some truly lasting music…" writes Elmore. "Few groups are this comfortable as performers, and even fewer would take as many risks."
Donna the Buffalo announced The Stampede: A tour to raise awareness to the inappropriate use of corporate money in politics. They've joined forces with Ben Cohen, Co-Founder of Ben & Jerry's, who has started stamping slogans on currency in protest (stampstampede.org). "As a band, we have made a long term commitment to join this burgeoning movement," says Jeb Puryear. "It is clear to us that we will never get significant government action on issues like healthcare, student debt, wall street banks, the environment, and corporate tax evasion until we outlaw legalized corporate bribery of our politicians."
They are joining teaming up with legendary American roots music troubadour Peter Rowan to kick off The Stampede in the Fall of 2015 and are looking to snowball the tour into the election year to raise awareness to the topic. Peter Rowan says, "At last, it comes around again; making music with Donna the Buffalo, one of my favorites."
Donna the Buffalo is Jeb Puryear (vocals, electric guitar) and Tara Nevins (vocals, guitar, fiddle, accordion, scrubboard) joined by David McCracken (Hammond organ, Honer Clavinet & piano), Kyle Spark (bass) and Mark Raudabaugh (drums). "It's been really fun with this lineup," Puryear says. "You get to the point where you're playing on a really high level, things are clicking and it's like turning on the key to a really good car. It just goes."
"You have to do just what you want to do, and everyone likes different things," Nevins says. "Both Jeb and I come from this background of old-time fiddle music, which is very natural, very real, very under-produced, and all about coming from the gut—flying by the seat of your pants. So we have that in us, too."
All Music Guide says their most recent album, Tonight, Tomorrow and Yesterday (2013 Sugar Hill Records), "highlights everything this consistent band does, and it has a warm, live-sounding production… This is what 21st century Americana sounds like, a little bit of this and that from anywhere wrapped up into a poignant, jamming dance reel, a place where the past and history meet easily in the immediate now and everybody feels like dancing."
The band has released ten albums and are affiliated with several others, including Puryear's 2007 solo album Hopes and Dreams and a 2003 release, Wait Til Spring, with Jim Lauderdale. The band's 2008 release Silverlined, as well as the 2013 release (both on Sugar Hill) did well on the Americana Music Chart, each placing well into the top ten. In 2011 Nevins released Wood and Stone, produced by Larry Campbell in Levon Helm Studios, and Mule to Ride in 1999 on Sugar Hill Records.
Donna the Buffalo drew it's original inspiration from a cherished part of the American heritage: the old-time music festivals of the south that drew entire towns and counties together. Not only was it playing music at these events, it was the vibe and the togetherness that bonded the people that attended.
"Those festivals were so explosive, and the community and the feeling of people being with each other, that's the feeling we were shooting for in our music," Puryear says. "Donna the Buffalo is an extension of the joy we've found."
This type of bond is what Donna the Buffalo's fans, self-titled The Herd, connect to and why they travel around to see them at shows and festivals throughout the year, including a family of GrassRoots Festivals that DtB started and is still the driving force behind.
"It's a great feeling to promote such a feeling of community, like you're really part of something that's happening, like a movement or a positive force…" Nevins says, "All those people that come and follow you and you recognize them and you become friends with them — you're all moving along for the same purpose. It is powerful. It's very powerful, actually."
Donna the Buffalo plays music that often moves listeners physically and spiritually. In the words of a longtime fan, "Their songs are well known to contain lyrics offering poetry and sage commentary on the attractions and struggles with love and politics in this life. Their magnetic musical mix has often been described as dance music, and, for sure, there is everything from foot-tapping to get-up-and-feel-ecstatic moving in their sound; but there is also some deeply satisfying solace in what DTB has to say and how they say it."
Jeb talks of his inspiration "rolling off all the great protest songs and the socially conscious music like Bob Marley and The Beatles and Bob Dylan – all of that stuff. So that, to me, is sort of like a tradition to write from that angle as a way of reflecting on what you feel about the world and how you feel it could be better and getting to a different place as a society. There's also the strength that comes from music and gives you the feeling like you can change those things and make some progress, and then express some of the particulars about what you'd like to change."
"If there's a common thread, it's an up-tempo beat that gets audiences dancing, moving and smiling, even for the more topical songs. That's part of the point: Sending energy and spreading joy can be political acts… When the band recently went out to the Occupy Wall Street demonstrations, Puryear read a pamphlet that said 'it's about the vibration,' and he agrees.
'The vibe is going to be the big change, out of a passion for living." Jeb says said to the Rochester Messenger Post. "Just that kind of energy, something we kind of feel in ourselves." It's certainly kept the band rejuvenated, he noted: It's "having an absolute chemistry that's creative and can still be exciting over 20-something years.'"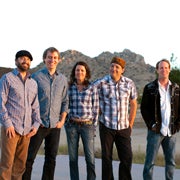 Doors

7:30 PM

Show

8:30 PM

Price

$20 General Admission
SHOWINGS
This event has already occurred.