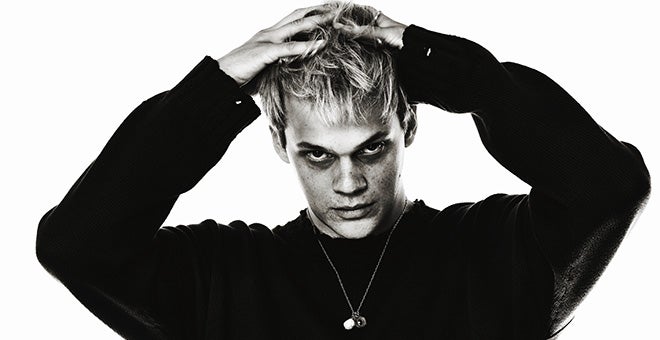 Thu, Oct 12, 2023
George Clanton
with Frost Children and Death's Dynamic Shroud
George Clanton doesn't just produce gleaming electronic pop, he produces nostalgia too. The Los Angeles artist's process involves tweaking synthesizer presets, but beyond searching for the right melodies and textures, he's hoping to come upon a sound that strikes a spiritual chord. "I'm looking for something that triggers a memory or an emotion," he says. His lyrics are direct transmissions from his soul: raw, often off-the-cuff, evocative. When you pair those words with the gauzy textures Clanton's become known for, his music feels like a dreamy filter you can put over your own memories. Every moment feels a little more colorful, a little more comforting.
You can hear the impact of this approach in his upcoming third album—take fuzz-pop anthem "Fucking Up My Life." The track is both raucous and soothing, and as Clanton's distorted croons echo across swelling synths and crushing breakbeats, he offers a mantra: "It feels alright."
It's a fitting return for an artist who's spent the last decade cutting through the noise. In addition to making music, he runs the 100% Electronica record label with his fellow pop mutator and wife Negative Gemini. He also spearheads events, including weekly livestreams on Twitch. Being extremely online has allowed Clanton's fans access to the depths of his personality, to connect with his work more deeply. "I think of myself as the ultimate DIY person," he says. "Working the George Clanton way has made for a really unique career that hasn't yet been fully recognized."
Growing up, Clanton knew he wanted to be an entertainer, but he didn't know how. His hometown of Ridgeway, Virginia, had a NASCAR track but no concert venues or record stores. So MTV was his primary education: videos by artists like 311, The Prodigy, and the Bad Boy Records crew taught the art of showmanship. He downloaded a lot of music from Limewire. During one session, a mislabeled download of what he thought was Oasis turned out to be shoegaze band Brian Jonestown Massacre, opening him up to the vast world of underground music on the internet, which led him to help form the scene that would dream up vaporwave.
Under the monikers ESPRIT 空想 and Mirror Kisses, Clanton became a key figure of the early vaporwave scene through his meditative lo-fi productions. The genre was then known primarily for its use of samples, but his 2014 album virtua.zip was a landmark: the first of its kind to be built entirely from original compositions. He also started singing on his tracks back then, adding a human touch and another layer of emotional involvement to the developing genre. In 2015, he dropped both aliases in favor of his given name, a symbolic shedding of creative restraints.
In order to reproduce his internet success offline, Clanton hustled harder. Moving to Brooklyn in 2015, where he worked a day job and made music at night, provided that motivation. Seeking a label but unwilling to compromise, he started his own. The label and his first album under his birth name would share the same moniker: 100% Electronica. His 2018 follow-up, Slide, further revealed his gift for deeply moving pop. One of the album's most powerful tracks, "You Lost Me There," was inspired by Negative Gemini leaving for work. The mild melancholy of missing your person for a few hours started to feel like the end of the world: "I just didn't want to be alone because the house was empty," Clanton says. "I try to find the extreme in the mundane."
Clanton has also curated a tightly knit roster of artists ( Negative Gemini, Satin Sheets, Small Black, et al.) who continue to push the boundaries of vaporwave, internet music, and pop. He considers 100% Electronica his biggest achievement, pointing to the dedicated fans that see themselves in the music. "I feel like we've created a cultural identity out of thin air," he says.
Clanton expanded upon that in 2019 with 100% ElectroniCON, the first vaporwave music festival, to give the community a physical space in which to interact. When live events were paused in 2020, he stayed connected through Virtual Utopia concerts, where artists perform in panoramic virtual reality environments, and weekly VR talk show THE BIG STREAM. Even though he had no framework for programming, Clanton taught himself to code using Python and C# languages in order to make these shows. He found a way to stay busy musically too. In a full-circle moment, he got to team up with one of his childhood inspirations, working with 311 frontman Nick Hexum on their psychedelic album George Clanton & Nick Hexum (2020), which landed Clanton on the Billboard charts for the first time (Top 100 Current Album Sales).
After a year spreading out across a number of projects, Clanton is now focusing on delivering a powerful sequel to Slide. Started almost immediately after Slide's release, the new album finds him both musically and personally matured. It's an elegant merging of all his past musical selves—of stirring rock, sweeping shoegaze, and niche electronics—augmented with more complex layers and physical instruments. It's also a journey inwards as Clanton emphasizes personal reflection and self-improvement—themes he's held close his whole career. "It's definitely something that I need to get out," he says of the music. "I want people to know that George Clanton is better than ever and something amazing is coming just around the corner.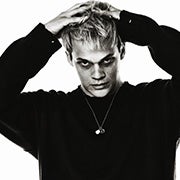 Doors

7:00 PM

Show

8:00 PM

Price

All Ages
$26 - Advance
$30 - Door