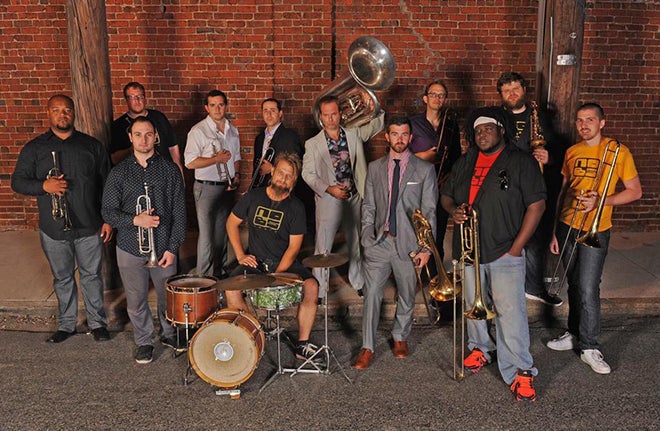 Sat, Dec 3, 2016
NO BS! Brass Band
with Special Guest Lucy Dacus and Angelica Garcia
About No BS! Brass Band: Based in Richmond, Virginia, No BS! Brass Band has quickly earned a reputation as a premiere band to see for heart-pounding energy and uncontrollable dancing. They take their music into uncharted territory, embracing the spirit of New Orleans into its original East Coast modern funk and fearlessly combining elements of James Brown, John Coltrane, Michael Jackson, and Led Zeppelin into their fiercely original sound.

Founders Reggie Pace and Lance Koehler have cast this 11-piece band in which nearly every member has had conservatory training, holding various degrees in music. In putting together the compositions and arrangements, the "b.s." has been stripped to give the audience something solid, unique, organic, real, and powerful. They have the look of New Orleans with the raw sound all their own -- music is a true definition of the "Richmond sound."

About Lucy Dacus: Lucy Dacus's No Burden is full of surprises—sharp lyrical observations, playful turns of musical phrase, hooks that'll embed themselves in your frontal lobe for days. But the most surprising thing about this album might be the fact that it's a debut; it has a keen sense of self about it, and it nearly glows from the self-possession held by the woman at its core.

The 21-year-old Dacus grew up in Richmond; she was adopted at a young age, an experience that informed her curious, openhearted songwriting. "When my parents were explaining what adoption was—which was very early on in my childhood—they always said that my birthmother thought I was worthwhile even though she couldn't be my mom," she says. "And so from essentially infancy, I was taught that life was innately worthwhile because a bunch of people had worked together to set me up with one.

"Every other philosophy of mine has been built on that foundation," she continues. "Humans want this experience for each other; there has to be some reason why. I seem to always end up trying to write and understand how we can live the most worthwhile life, and therefore how we hold each other up from getting there."

Dacus started playing around Richmond while in college, opening for local acts and eventually meeting Jacob Blizard, a guitarist who invited her to make a record for a college project of his. No Burden, which originally came out in February on the Richmond label EggHunt Records, opens with the forthright, almost brutally honest "I Don't Wanna Be Funny Anymore," the last song Dacus wrote before the album's day-long recording session at Starstruck Studios in Nashville. Dacus delivers scalpel-sharp observations about resisting pigeonholing over chunky guitars, ticking off ideals of femininity and youth until the track's not-quite-resolution.

These themes extend to the lyrics of songs like "Strange Torpedo," a whirling portrait of a friend whose "bunch of bad habits" who, Dacus sings, has "been falling for so long… [and hasn't] hit anything solid yet." "I've been that friend watching a loved one do what they know is bad for them and not understanding why," says Dacus. The song offers a simple message: "'I love you, why don't you love you? You're the one in your body so you get to choose what to do with it, but if I were you I'd treat me differently.'"

The rest of No Burden, which was produced by Collin Pastore, puts Dacus's voice center stage, allowing the glinting poetry of her lyrics to shine even more brightly. "Trust," which Dacus wrote in late 2013, showcases her alone with her guitar, her faint vibrato floating over strummed chords as she sings of self-redemption. And the diptych "Dream State…" and "…Familiar Place," which revolve around Dacus repeating "Without you, I am surely the last of our kind/ Without you, I am surely the last of my kind," capture disappointment and loss in a jaw-dropping way; the music trembles around her while her voice stays steady, anticipating whatever might come next.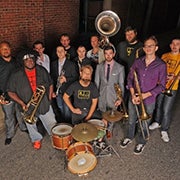 Doors

7:30 PM

Show

8:30 PM

Price

$15 Advance

$17 Day of Show
SHOWINGS
This event has already occurred.