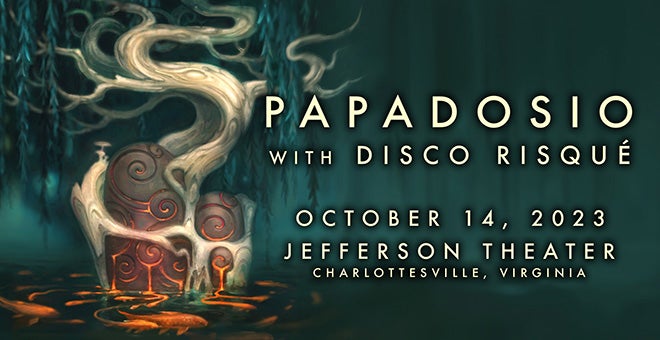 Sat, Oct 14, 2023
Papadosio
with Disco Risque
This event is 18 & Over Only.
Deftly navigating the confluence of prog rock, livetronica, jazz, & jam, Papadosio's appeal as a crossover act has amassed a rabid fan base across North America. Thanks to a steady stream of innovative albums, they've seen a decade and a half of consistent touring with hundreds of live recordings at the fingertips of every follower. Their allure's led to co-presenting massive events such as Resonance, Secret Dreams, Summer SEEquence, and Subterranea Festival, plus headline plays at the legendary Red Rocks Amphitheatre.
From their humble Midwest origins, Papadosio's grassroots operation has grown to overflowing clubs and theaters nationwide, cementing their reputation as a must-see act. Now based in Asheville, NC, the dynamic five-piece features rhythm expert Mike Healy on drums, low end luminary Rob McConnell on bass, multi-instrumentalist brothers Sam & Billy Brouse on keyboard/vocals, and sage producer Anthony Thogmartin on guitar/vocals.
The band remains doggedly devoted to writing new music and pushing technological boundaries in their downtime, expanding the size and scope of their existing catalog live on stage and in the moment. Complex harmonies and challenging rhythms are the lifeblood of each composition, while a stunning visual show synchronized with the music enhances the immersive live experience.
Papadosio offers one-of-a-kind experiences to each attendee, with more than 150 shows per year over the past decade. In the band's 16-year history, no one has heard a song—let alone a set—played the same way twice.
---
Disco Risqué, known affectionately amongst their fans as "DR," was formed in 2014 by longtime friends Charlie Murchie (lead guitar) and Robert Prescott (drums & vocals). In subsequent years Ryan Calonder (trumpet, rhythm guitar, lead vocals) Andrew Hollifield (bass) and Sean Hodge (keys) were added to the lineup yielding what is now a full fledged high energy progressive pop/funk/rock band whose aggressive riffs, danceable beats and catchy lyrics can take any listener to a sonic party in their minds.
This polished musical experience has been working hard to bring you fat tracks and rockin shows with their latest release "d3p" and their frequent touring schedule. Recently performing up and down the east coast, from georgia to new hampshire, dr is committed to bringing a top of the line professional funky rock n roll dance party to anywhere music can be heard. Looking towards the future the band is excited for the forthcoming release of the long anticipated album, "joke squad," an instrumental lp with exciting compositions and melodic riffs that toes the line between metal, jazz, funk and dance described by a friend of the band as "tool on cocaine."
Disco Risqué's growth as a band is more apparent in their studio recordings than anywhere else. 2016's eponymous debut album was a smorgasbord of musical offerings giving a little bit of everything the band had to offer, 2018's if you don't like hits was a pop funk focused lp, and 2021's d3p showed the band's growth as a full fledged studio band. However, while the sound has grown over the years, the shows have remained raucous and ruthless making sure that while new room is made for new viewers, the old school and original flair of disco risqué is alive and well on stages across the country. As always…come get some.
Ryan "Swimsuit" calonder - trumpet, guitar, vocals
Charlie "honeyman" murchie - guitar, vocals
Andrew "champ" hollifield - bass, vocals
Robert "Slim" prescott - drums, vocals
Sean "known for his music" hodge - keys, vocals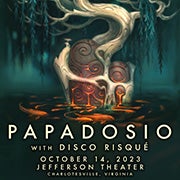 Doors

7:00 PM

Show

8:00 PM

Price

18 & Over Only
$20 - Early Bird GA
$25 - Advance
$30 - Door