Sun, Dec 14, 2014
Red Wing Roots Music Festival Presents The Steel Wheels
with David Wax Museum
The Steel Wheels are renowned for their raw energy and chemistry on stage, where they cluster tightly around a single microphone to adorn Trent Wagler's unmistakable tenor with bell-clear four part harmonies complimented by Eric Brubaker's fiddle, Brian Dickel's upright bass and Jay Lapp on the mandolin and guitars. The band's own brand of acoustic Americana roots music reflects stylings of the past yet boldly embodies the strength of powerful original song writing.
Their breakout album, Red Wing (2010), garnered critical praise and enjoyed tremendous success on the radio. It spent 13 weeks on the Americana Music Association's Top 40 Chart, where it reached the number 15 slot, and cracked the Euro Americana Chart top 10. The Steel Wheels were nominated for five Independent Music Awards in 2010, with "Nothing You Can't Lose" taking top honors as Best Country Song. Following 2011's release, Live at Goose Creek, The Steel Wheels continued to take the Americana scene by storm with their album, Lay Down, Lay Low (2012), which lingered for 10 weeks on the AMA's Top 40 Chart and was the 2012 Americana Album of the Year from the Independent Music Awards. Additionally NPR Music named "Rain in the Valley" their Song of the Day, marveling that the "heavy hymn […] is sparse and dense all at once." 2013 brought yet another Americana charting release entitled, No More Rain.

The Steel Wheels are selling out venues from coast to coast and appearing at many of the top festivals in the US & Canada. These include Merlefest, Grey Fox, Bristol Rhythm & Roots, Ann Arbor Folk Festival, Stagecoach, Fayetteville Roots Festival, Moab Folk Festival, Musikfest, Walnut Valley Festival, Canmore Folk Festival, Gettysburg Bluegrass Festival, Kerrville Folk Festival, and many others. 2014 shows no signs of slowing down with a full schedule of prestigious festivals and venues. In July the band hosts their own annual Red Wing Roots Music Festival (www.redwingroots.com) bringing over 40 bands to 4 stages for 3 days of music & community near their home in the Shenandoah Valley. In addition as the schedule allows, the band organizes and perform the SpokeSongs bicycle music tour, during which the band members tow their instruments, equipment, and merchandise from one show to another via bicycle. Past tours have spanned up to 11 days, 600 miles, and 10 shows. The attention from these special SpokeSongs tours allow the band to raise extra money and awareness for charities and causes along the way.
As the band thrives, so do their partnerships with local businesses, artisans, and charitable organizations. The values portrayed in their music—devotion to roots, community, and family—are a way of life for The Steel Wheels, and this is reflected in everything from production process and booking agency to merchandise and touring. The band's merchandise represents a host of grassroots connections to people and businesses. Lucas Roasting Company, located just outside of Harrisonburg, created "Halfway to Heaven" dark roast coffee in honor of their friends The Steel Wheels. Blue Mountain Brewery, located on Afton Mountain in Virginia, hosted the band when they were just getting started and now cans and bottles a multi-state distributed "Steel Wheels ESB." T-shirts and printing needs are locally sourced and their one of a kind ceramic mugs are made by a potter friend, Justin Rothshank. Each product is intimately woven into the bands' narrative. The Steel Wheels are proof that music remains a viable and sustaining force for connection in our world.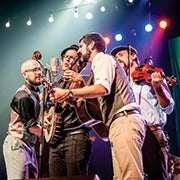 Doors

6:00 PM

Show

7:00 PM

Price

$25 Advance - Seated
$28 Day of Show - Seated
$22 Advance - Standing
$25 Day of Show - Standing
SHOWINGS
This event has already occurred.