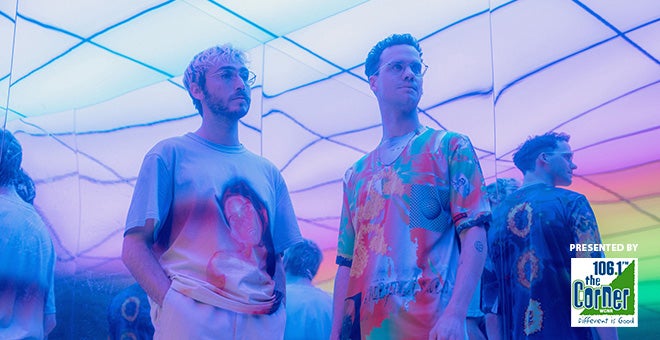 Whitney - Presented by 106.1 The Corner
Wed, Oct 26, 2022
Whitney - Presented by 106.1 The Corner
with twen
Julien Ehrlich and Max Kakacek could hear the staggering differences in the songs they were writing for their third album as Whitney, SPARK—the buoyant drum loops, the effortless falsetto hooks, the coruscant keyboard lines. They suddenly sounded like a band reimagined, their once-ramshackle folk-pop now brimming with unprecedented gusto and sheen. But could they see it, too?
So in the ad hoc studio the Chicago duo built in the living room of their rented Portland bungalow, a shared 2020 escape hatch amid breakups and lockdowns, Julien and Max decided to find out. Somewhere between midnight and dawn every night, their brains refracted by the late hour and light psychedelics, they'd play their latest creations while a hardware store disco ball spun overhead and slowed-down music videos from megastars spooled silently on YouTube. Did their own pop songs—so much more immediate and modern than their hazy origins—fit such big-budget reels? "We'd come to the conclusion we weren't going to be filming Super 8 videos to this stuff anymore," Julien remembers with a grin. "How about something more hi-fi, cinematic?" When the footage and the tunes linked, Julien and Max knew they had done it, that they'd finally found Whitney's sound.
SPARK reintroduces Whitney as a contemporary syndicate of classic pop, its dozen imaginative and endearing tracks wrapping fetching melodies around paisley-print Dilla beats and luxuriant electronics. What's more, Whitney reduces three years of extreme emotional highs and lows into 38 brisk but deep minutes, each of these 12 tracks a singable lesson in what it is they (and, really, we) have all survived. The recalcitrant ennui of opener "NOTHING REMAINS," the devastating loss of "TERMINAL," the sun-streaked renewal of "REAL LOVE": However surprising it may sound, SPARK is less a radical reinvention for Whitney than an honest accounting of how it feels when you move out of your past and into your present, when you take the next steps of your lives and careers at once and without apology. SPARK maintains the warmth and ease of Whitney's early work; these songs glow with the newness of now.
The start of SPARK traces back to the surprise success of Light Upon the Lake, Whitney's 2016 debut. Its softly distorted psych-folk dreams found a wide audience more readily than the pair ever expected; after years of ceaseless touring, they felt compelled to plug into the same sound for round two, 2019's Forever Turned Around. "We committed to making a second record with the same tools," Julien says, "because we knew we could." As the sessions progressed, though, they became a slog, as Julien and Max worked to be versions of themselves they no longer were, to write songs in a mold that no longer fit. "What are we doing? How do we fix this, together?" Max remembers often asking Julien, as they contended with broken tape machines that felt like metaphors. This no longer felt like their music, but a vestige of their initial enthusiasm. They barely had enough material or energy to finish.
Max and Julien knew a drastic change was necessary, but they never envisioned, of course, international lockdowns would facilitate it. Weeks after Julien decamped to a Craigslist rental in Portland to get away from the scene of an intense breakup, Max followed, hoping to escape the tail of a long Chicago winter with his best friend and cowriter. Four days later, flights were grounded. Upcoming tours were canceled. For the next 14 months, barring occasional sojourns to Chicago or visits from old friends, they dug in with a zeal and determination that recalled their start, before success set expectations. "We had time to just sit and watch the body of work grow in real time," Julien says. "We were just stacking stronger and stronger songs on top of each other." Max picks up his thought: "Our favorite way to make records, the way we made the first one."
Even if the way was similar, the results are remarkably different, a refreshing reminder of how effortless a pivot can feel when it's a true course correction. Whitney had a lot of fodder here. Julien's breakup—and Max's impending one—inspired the slow aching soul of "SELF," where prismatic horns and pianos slowly coalesce beneath a beautiful choir of Julien's confusion. With its spirals of slide guitar and italicized strings, "NOTHING REMAINS" wonders how people persevere through heartache, how you carry on when "too much living has got me down."
Max and Julien weren't immune to this moment of overwhelming loss, either. Covid-19 killed Max's grandfather in December 2020, soon after the duo's mutual mentor, Girls' JR White, died. Sung sweetly over electronics that invoke tolling church bells, "TERMINAL" feels like a welcome hug amid all this grief, a lushly made hymn for fending off the grim.
But the key to SPARK—even on these saddest of songs, all of which sparkle like gentle technicolor dreams—is sublimation, or Whitney's ability to hang around long enough for conditions to improve. Witness "BACK THEN," with its pulsing house beat and building pianos. Marvel at the drum-less majesty of "TWIRL," a gorgeous note-to-self about finding new dreams and holding them close, even as the world seems to wobble on its axis. Hear how "HEART WILL BEAT," an acoustic folk gem updated for this digital decade, confesses not just to heartache but to its eventual end, to the admission that we can all eventually feel better.
To wit, the first song Max and Julien wrote upon returning to Chicago in May 2021—and the last one they finished before heading to Texas to cut SPARK with producers Brad Cook and John Congleton—is "REAL LOVE," which celebrates the overdue end of one relationship as an opportunity to fall completely for the right someone. From its Wurlitzer chime to its serrated bass, from its beaming harmonies to its massive chorus, "REAL LOVE" is a bright-eyed celebration of what will be, not a eulogy for what was. It feels, as with much of SPARK, like twirling in whatever sunbeam happens to peak through the clouds.
Listen closely, and you'll notice frequent references to smoke and fire throughout SPARK, itself a double entendre for inspiring something new or burning down the old. Max and Julien were indeed in Portland for the Fall of 2020, when smoke from nearby fires choked the city at record levels. It was terrifying and tragic, but they pressed on. "We found a way to live while the world was burning/Real life was caving in," Julien sings almost merrily during "BACK THEN," an anthem for finding out what's on the other side of hardship.
In these dire days, scientists speak increasingly of serotiny, an evolutionary miracle that causes some trees to release seeds only amid a season of fire. That is how SPARK often feels—Whitney's circumstances were so fraught on so many levels that they hung "the past…out to dry" and began again, finding a fresh version of themselves, their relationship, and their band after the blaze. Max and Julien are back in Chicago now, sharing a cozy walkup with a little studio, where they're already building songs that didn't make SPARK into the next Whitney album. They're both in happy romances, too. Now that they let the past burn, everything is new for Max and Julien. SPARK is not only Whitney's best album; it is an inspiring testament to perseverance and renewal, to best friends trusting each another enough to carry one another to the other side of this season of woe.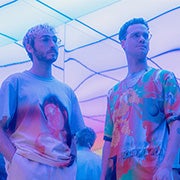 Doors

7:00 PM

Show

8:00 PM

Price

$34.50 - Advance

$38.00 - Door
SHOWINGS
This event has already occurred.